Wild morning to you! Lately, I feel as if my skin is under constant pressure due to too much heat and strong sun. That's why I decided to make a gentle homemade body scrub for glowing skin with thyme and sea salt. I believe that my skin deserves some extra attention. Let's get to it!
When it comes to summer, exposure to the sun, humidity and high temperatures, my biggest no-no are any cosmetic products that seem heavy; I hate body lotions, sunscreens or any kind of make-up that would leave a so-called film on my skin that would linger. You know, that feeling of icky, when it's too humid, or that feeling that your face will soon melt because of a too-heavy eyeshadow. During these long days of heat waves, I prefer to go as light as possible on anything that I use. (or eat, for that matter. and dress as well.)
That is why I decided to focus more on body scrubs: add a few natural and organic ingredients, some for their benefits, other for fragrance and with a bit of oil my skin feels soft and refreshed. Moreover, the reasons to make a homemade body scrub (for glowing skin) are quite obvious:
cheap
easy to make
only natural and organic ingredients
the ingredients are already at hand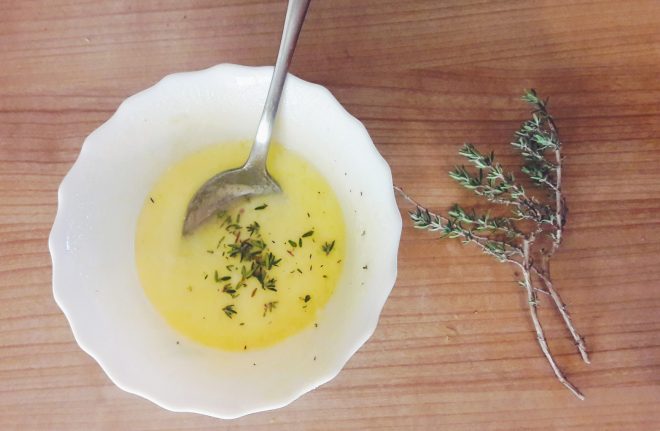 Why should I own body scrub?
Just because! Body scrubs are very useful and beneficial for our skin. To exfoliate is just another word for happiness to some (I'm not there yet, but it does put a smile on my face).
Body scrubs are a great way to get healthier and smoother skin. During the summer, this (in my humble opinion) is the best way to get through the day. A nice sugar or salt scrub in the morning (evening, or whenever you want) with a fresh body mist and I'm good to go. It's all my skin needs and demands, really.
Benefits of a body scrub:
relaxes the skin
cleanses and purifies your skin
helps eliminate dead skin cells
speeds up rejuvenation
increases blood circulation
your skin becomes softer
elbows and knees get smoother
makes hair removal easier
moisturizers and self-tan lotions work a lot better (have a look at my guide on self-tanning)
helps reduce stress
a good excuse to take some me-time
Should I buy it or should I make it?
Balance! That's what always works for me: sometimes I really can't think anymore, because I have too much on my mind, so I am definitely not going to make a scrub. But on other days, I feel very creative. That's when these ideas below come forward.
First of all, making a body scrub at home is fairly easy. There are numerous ways to make it; use your imagination and get creative! Here are some of my favorite combos of homemade body scrub for glowing skin that I like to switch to and from:
Sea salt and Thyme body scrub
Lemon juice and Lavender body scrub
Sea salt and Rosemary body scrub
Grapefruit and Green tea body scrub
Cinnamon and Vanilla body scrub
If you want to take the "DIY body scrub" to a different level, check out my detailed guide on DIY exfoliating body scrubs.
Secondly, in case I'm too busy to make my own scrub, I simply shop for one. I've gathered a few suggestions that are my current faves. However, I tend to be on a budget, so balancing between the bought ones and the homemade ones is something that I practice on a regular basis.
This way I can use luscious and gorgeous already-made scrubs that contain either too many ingredients or the ingredients I wouldn't know how to include in a scrub. After all, getting a nice package every now and then is also a great way to make your day, right?
Wildly favorite body scrubs
What?
This blood orange body scrub comes from 100% Pure cosmetic brand. It is 100% natural, vegan and without gluten. 100% Pure makes its cosmetics natural and organic, plant-based and healthy. Their products are based on antioxidants; their ingredients are fit for consumption as well. Their products are free of:
synthetic chemicals
artificial fragrances and dyes
alcohol
petrochemicals
any harmful toxins and chemicals
GMOs
animal ingredients
Why?
Because this body scrub is highly moisturizing. I feel as if my skin wakes up after a long week's sleep after applying it. What's more, I like it because it's not too harsh on my skin. Nutritious with the extracts of apricot oil and calendula, this body scrub is a sugary one; it tastes almost as good as it smells. (although it's not really my idea of a perfect breakfast)
Before applying I had to stir it a bit since the oil was separated from the rest of the mixture.
What?
This Lemongrass body scrub is made by the brand Asutra. Recently discovered, I was quite surprised that it was the first time I've ever heard of it, really. After all, I already have a list of my faves, but this one just seemed like it deserved a try. Okay, it was the lemongrass that got me. (Yes, I love lemongrass. In my green tea especially, but now I don't mind it on my body either!) Asutra company claims that they use only 100% Pure dead sea salts and Zero animal testing. Apart from this, their line of products is free of:
chemicals
GMOs
Gluten
preservatives
perfumes and fragrances
alcohol
dyes
animal fats
petroleum
Why?
A mixture of lemongrass, ylang-ylang, and aloe vera among others results in a beautiful smell I just couldn't resist. Very hydrating provides moisture as far as the moisture goes, it left my skin very satisfied. I had to stir the scrub a bit (again, natural), but the scent alone made me feel like I am in my own personal spa.
Homemade body scrub for glowing skin
When making any kind of treatment for myself (a scrub, a shampoo or a homemade conditioner, among others), I tend to simplify it as much as possible. Normally, I don't make it until I happen to have all the ingredients lying around.
It goes without saying that it was pretty much the same thing for this sea salt and thyme body scrub. I didn't have to buy anything extra, it consists only of the things that already are in my kitchen: sea salt, lemon, olive oil and thyme (I used it fresh since it grows in a pot on my terrace, but you can substitute it with dry as well).
Benefits of sea salt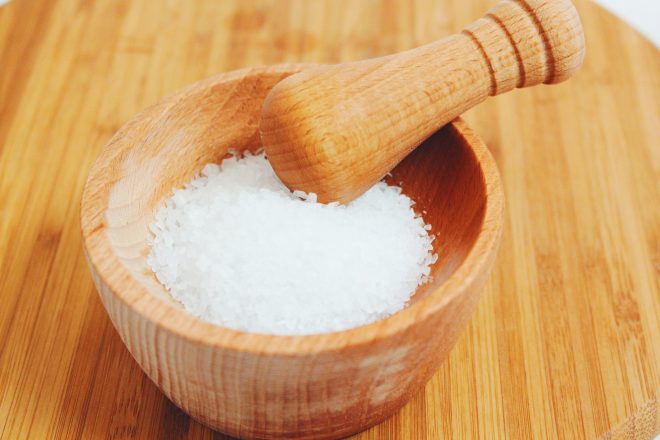 removes dead skin cells and boosts circulation (when used for exfoliation)
has rejuvenating effects on the skin
skin cleanser
stimulates toxin removal
great for your hair, skin, and body
aids to prevent muscle pain and spasms

Benefits of thyme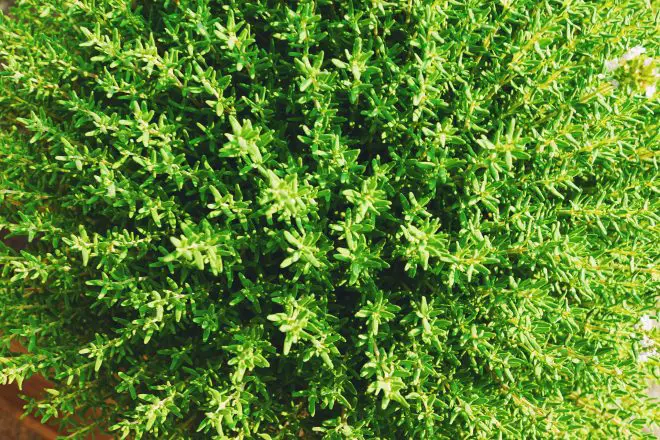 boosts the immune system
contains antioxidants
helps with respiratory infections
aids with muscle and joint pain
relaxes, reduces stress and anxiety
natural fragrance

I've applied this scrub in the shower and rinsed it with lukewarm water. My skin was glowing with joy and became incredibly soft, it didn't require any extra lotions; I don't know about you, but I really stay far, far away from any lotions that offer too much moisture during the long dry summer.
After a scrub and a shower, the only thing that I do use on a regular basis is a simple body mist. This is absolutely more than enough to keep my skin happy, soft and fresh. I apply it whenever I feel like it and I always keep it in my bag as well; after a shower, after a swim, before I got out for a drink, you name it.
Wildly favorite body mists
What?
I've had my eye on Herbivore Botanicals for quite some time for two reasons; firstly, and this will sound just too girly, they caught my attention with their simple labeling. Nothing bright and in-your-face kind of labels, bottles, and jars. Simplicity is the key. Secondly, I like and support their policy of no animal testing, reusable packaging, and all natural and organic ingredients. Herbivore products are free of:
synthetic ingredients
parabens
SLS (sodium laurel sulfate)
harmful chemicals
fillers
petroleum
Why?
Sea, coconut and aloe vera? Yes, please, I love everything linked to this specific sea-feel, especially when it makes me think I'm on holiday 24/7. Even though the smell doesn't last very long, I, by all means, prefer natural and organic to synthetic fragrances and perfumes. You can use this fresh and lightly fragrant mist on your body as well as on your hair. In case you have straight hair, it might add some extra texture and beach curls, but my hair is curly, so I haven't noticed any difference. The one thing to mention is that this mist doesn't tangle my hair at all, which is a great achievement in itself. That's why I apply it after swimming after I rinse my hair with cold water. Just to give my curls an extra kick. (shape, I meant shape.)
What?
Yes, Asutra seriously got to me (obviously). The same as their body scrub, this body mist is also free of any harmful chemicals, toxins, synthetic fragrances or perfumes. Without any alcohol or detergents, it is as natural as it comes. A blend of jasmine and lemongrass (again? I know, I know) the fragrance is not too strong, but you can definitely smell jasmine in there.
Why?
If you need a boost of self-confidence, I'd totally recommend this elixir. I tend to fight some anxiety from time to time, so any boosters that I can get my hands on are very, very welcome in those awkward situations. That goes for a date night, an exam, that first day on a job, or even a lousy Monday morning: it's nice to keep a secret weapon in my bag just for the sake of it. A few sprays go a long way.
One more thing, I use this mist to spray it on fresh sheets, clothes (that special dress or a shirt of mine!) and even dried flowers I keep on my desk.
Shake well before use.
What's your favorite (homemade) body scrub for glowing skin?
Stay wild!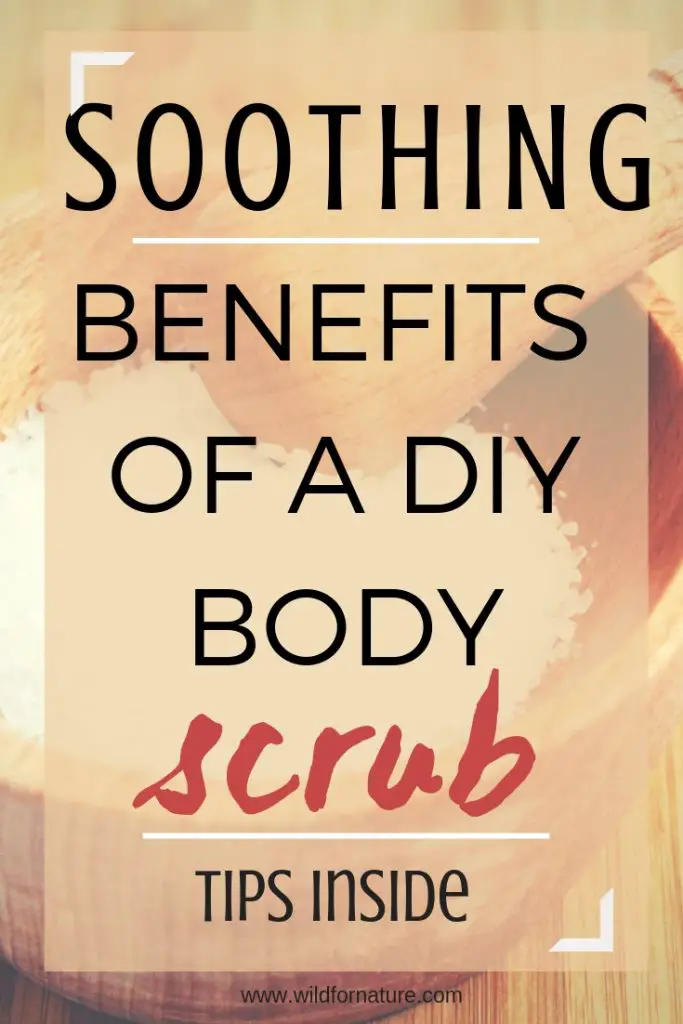 Save
Save
Save
Save