Wild morning to you! Experimenting is always a fun pastime especially when it's too hot to go outside. I've made my own tanning oil and I prepared a list of natural oils with SPF levels that can serve as ingredients for homemade sunscreen.
Let's have a look at whether natural oils contain an SPF level high enough to protect our skin sufficiently. Do you think you can use natural oils to substitute your usual sunscreen?
There has been some talk around the web on coconut oil as sunscreen and its SPF level. I found claims that coconut oil can serve as a sunscreen in itself; the same apparently goes for olive oil as sunscreen, shea butter SPF, cocoa butter SPF, and the list goes on and on.
DIY Sunscreen- it is safe?
I wanted to know more about carrier oils and the protection they offer to the skin. That's why I made a list of a top 10 natural oils that could be used as an ingredient in a natural homemade sunscreen!
Yes, you can make your own sunscreen; there are dozens of bloggers who promote their own DIY sunscreen online. Still, there are dozens of other articles that claim otherwise; that you shouldn't make and use homemade sunscreen.
I personally buy it still because it's something I can not get right and I want full protection for my skin. I found this interesting article from Formula Botanica, which says that
The effectiveness of your sunscreen formulation must be proved and measured by parameters that will assure you that it is performing as it should. Otherwise, you are flying blind. Guessing the effectiveness of your sunscreen by subjectively looking at your skin is not accurate and it doesn't prove that your formulation is effective. And remember, the redness of the skin is mostly related to the UVB rays. Only a lab test will prove if your homemade sunscreen is effective.
Making homemade skincare can be quite dangerous and I don't want to risk and damage the largest organ on my body. There are plenty of natural sunscreens available; some of the top rated (and my favorite):
Natural oils as a sunscreen
While there is a lot of debate on the Internet whether natural oils could be used as a commercial sunscreen substitute or not, I say it's up to you.
I have decided long ago that natural oils cannot serve as a good source for the protection from the sun. I've compiled a list of natural oils that could benefit your skin in a healthy, healing, and nurturing way.
Still,  I normally make a concoction of these (which is based on cocoa butter, olive oil, and shea butter) and I use it after I get into the shade, after the swim, after sunbathing. These oils can cause more damage than good when used on direct sunlight. Here's a good article on why you shouldn't use coconut oil as sunscreen.
Whether you want to choose natural oil as a sunscreen or not, it's up to you even though I would seriously recommend it against it. However, there's absolutely nothing wrong with adding these oils for your DIY skincare recipes, such as body butters, oils, and facial serums, but not as natural sunscreen protection.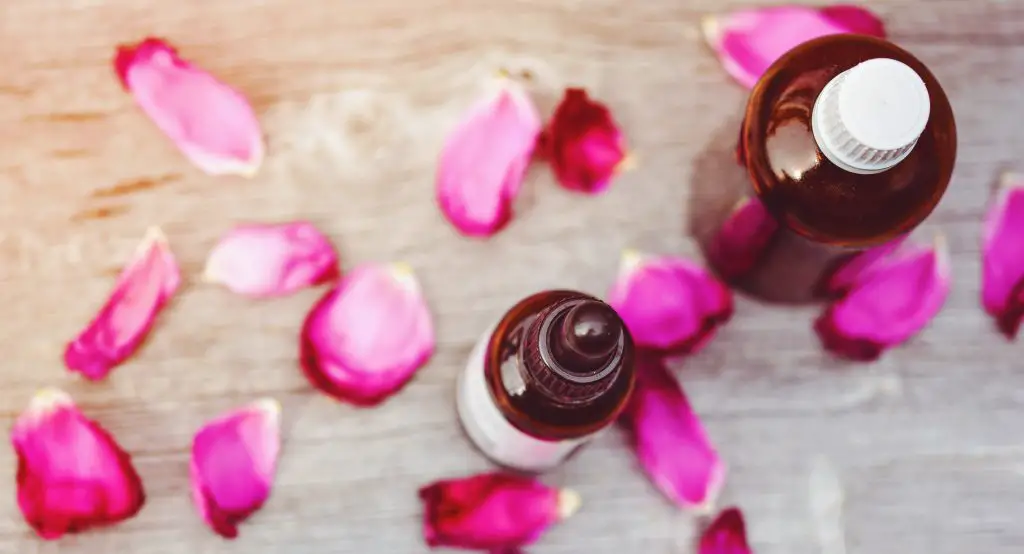 1. Raspberry seed oil (supposedly SPF 28-50)
Essential fatty acids (omega 3 and 6)
Vitamin E (protects the cells from the damage of the free radicals)
Polyphenols (can be found in red wine, green tea, and olives: they protect the skin from UV radiation and boost skin cell regeneration)
* this carrier oil is a bit pricey to slather it all over your body; I'd prefer to use it in facial skincare instead.
Find organic raspberry seed oil here.
2. Carrot seed oil (supposedly SPF 38-40)
Contains high levels of vitamins A, E, and C
Rich in antioxidants (beta-carotene)
A natural anti-aging serum
Rejuvenates and protects the skin
Find carrot seed oil here.
3. Wheat germ oil (supposedly SPF 20)
A rich source of vitamins A, D, B-complex
Vitamin E (free-radical protection)
Loaded with antioxidants and fatty acids
Rich source of minerals (magnesium, iron, potassium, phosphorus)
Moisturizes and heals your skin
Find wheat germ oil here.
4. Macadamia oil (supposedly SPF 6)
A rich source of vitamin A
A good source of minerals (iron, phosphorus, potassium, magnesium, copper, and zinc)
A rich source of thiamin, riboflavin, niacin, and folates
Contains loads of antioxidants (polyphenols, amino acids)
Rich in monounsaturated fats
Contains a high level of protein
Slows down a skin-aging process
Prevents your hair from breaking
Find macadamia oil here.
5. Jojoba oil (supposedly SPF 4)
A very rich source of vitamins E and B-complex
A rich source of minerals such as zinc, copper, iodine, and selenium
The antioxidants in jojoba oil regenerate skin and slow down the aging process
Hydrates skin
Anti-inflammatory and antiseptic
Reduces wrinkles
Reduces stretch marks
Boosts hair growth
Gives a natural and healthy shine to your hair
Find organic jojoba oil here.
6. Avocado oil (supposedly SPF 15)
A rich source of vitamins A, E, and C.
Contains a decent amount of magnesium, calcium, potassium, and iron
Rich in antioxidants
Contains monounsaturated fats (the good fats, I've covered avocado benefits in this post)
Hydrates dry skin
Helps with sunburns as well as with skin regeneration
Works as a natural conditioner for hair
Regulates hair growth and improves the circulation of the scalp
Find organic avocado oil here.
7. Shea butter (supposedly SPF 6-10)
You can read more about shea butter hair benefits here.
Rich in vitamins A, D, and E
Anti-inflammatory
Great for skin rashes, scars, stretch marks, and burns
Great for after-sun skin care (sunburns and tanning)
Contains essential fatty acids
Hydrates dry skin (great as a winter skin care)
Anti-aging agent
Soothes a dry scalp (no more itching!)
A great hair and skin moisturizer
Shea butter recipes:
Find organic shea butter here.
8. Coconut oil (supposedly SPF 8-10)
Contains a high level of antioxidants
Very moisturizing for dry skin
Strengthens the roots of your hair and hydrates the hair, which results in shiny and strong hair
Antibacterial, anti-inflammatory, and antifungal properties
Helps with different skin disorders or injuries
Great for dental health
Boosts metabolism (if eaten)
Coconut oil recipes:
Hair mask with coconut oil for itchy scalp.
Coconut oil pulling: why should you?
Find organic coconut oil here.
9. Hemp seed oil (supposedly SPF 6)
You can read more about hemp seed oil skin benefits here.
Rich source of vitamin E
Packed with minerals: potassium, magnesium, iron, zinc, phosphorus
High protein content
A rich source of omega 3 fatty acid
Rich source of polyunsaturated fats
Regenerates the skin
Great skin and hair moisturizer
Boosts the immune system
Find organic hemp seed oil here.
10. Olive oil (supposedly SPF 2-8)
Read more about olive oil skin and hair benefits here.
Packed with antioxidants
Rich in monounsaturated fats
Anti-inflammatory
Aids in skin elasticity
Helps with skin regeneration (in case of wounds and sunburns)
Antiaging properties
Hydrates the hair
Find organic extra virgin olive oil here.
Homemade natural tanning oil
First of all, I heard that with the help of carrots and walnuts, I could make my skin more tanned. That's the reason I made this oil in the first place (budget!). So at this point, I'd rather call it a tanning oil than a homemade sunscreen, because I believe the SPF of this oil is about 5. And that is just too low.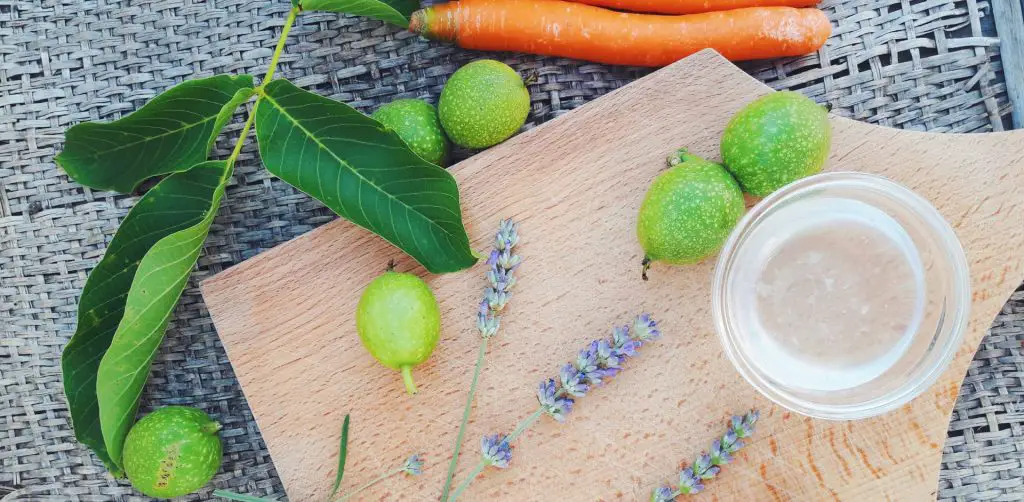 My homemade tanning oil contains only 5 ingredients and DIY-ing has just never been this easy. You can even make it with only 3 ingredients if you're feeling lazy; you can leave out dried lavender petals and coconut oil.
Carrots are loaded with beta-carotene, which protects the skin from the UV rays and at the same time it is also a powerful antioxidant.
Walnuts are rich in vitamin E and healthy fats. This is just another antioxidant for healthy skin.
Olive oil is rich in unsaturated fatty acids, vitamin A and E. It protects the skin from the sun.
Coconut oil also protects the skin from the sun and the free radicals: it contains antioxidants and fatty acids.
DIY Tanning Oil With Carrots and Walnuts
Ingredients:
1 carrot, shredded
4 green walnuts, chopped
¼ cup olive oil (cold pressed, organic)
¼ cup coconut oil (cold pressed, organic)
A few dried lavender petals (optional)
Procedure:
Chop walnuts and shred the carrot
Put all the ingredients into a clean, dry, and sterilized jar
Top with a mixture of olive oil and coconut oil
Close the lid and shake well.
Notes:
I left the mixture on my terrace in a sunny spot for about a week, shaking it daily. The color changed after a few days, turning darker and darker.
After a week I strained the mixture, poured the so-called tanning oil into a clean dry jar.
To use: I apply the oil after my dry-brushing routine and shower in the morning.
Never use this oil before heading out to direct sunlight. It's not meant to work as an SPF and your skin will burn.
Do you use natural oils in your daily skin care?
Stay wild!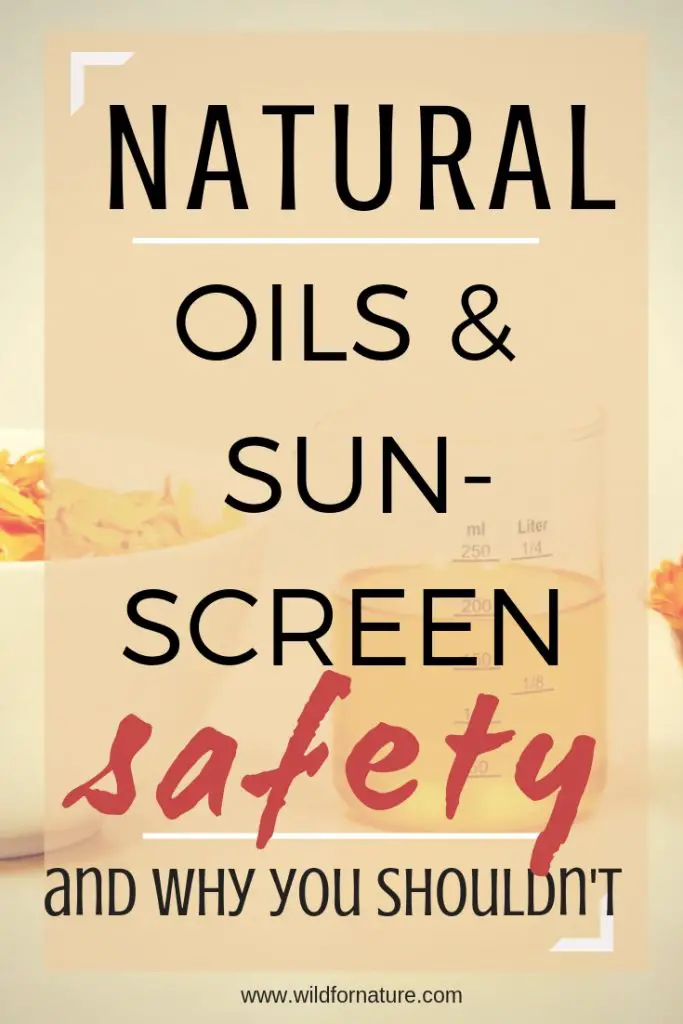 Save
Save