Hello, wildlings! Today we're making a lovely homemade skin-tightening face mask. You can whip this beauty up in under 5 minutes and enjoy your new glow for the whole day! it's rejuvenating and packed with antioxidants. Let's get those clays mixing and powders coloring!
Why this mask? Because I wanted to continue our skin-tightening series. After we learned how to tighten the skin on our body with a butter and how to make a firming lotion, I thought it's high time to move up to our faces. But, unlike the lotion, this mask is great even if you're a complete beginner. September's here and so are rainy weekends. It's a great project to have fun, save money, and get a healthy boost for your skin!
1000% vegan
Firming
Great for girl's night in!
Colorful
Packed with antioxidants
Very easy to make!
But, before we get to the actual recipe, let's have a look at all the glorious benefits these ingredients have to offer!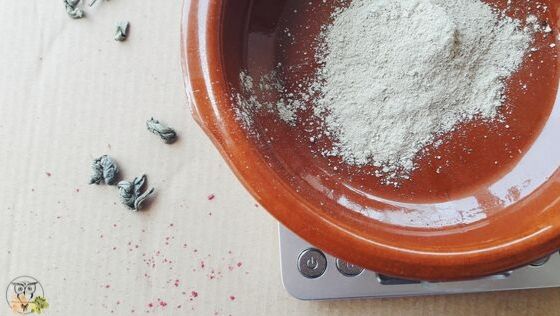 Skin-tightening ingredients
Before we get to the actual recipe, let's have a look at the skin-tightening ingredients used in this recipe and their benefits.
Bentonite clay
Bentonite clay swells like a sponge when it comes into contact with water. It has strong cleansing abilities and it's most recommended for oily, acne-prone, combination, and normal skin.
It's a powerful healing clay that's very versatile with amazing healing properties. It can also shrink large pores, provide exfoliation for the skin, boost blood circulation, and removes dirt and impurities. I found this study that discovered the positive influence of bentonite clay on collagen production in the skin with regular use. No, one-time application won't do much but if you turn it into a weekly event, it could improve all that you want to improve!
Fuller's earth
The rumor has it that Fuller's earth, also known as multani mitti, can help whiten the skin. now, I have no idea if that's valid or not, but I have found information that it helps to tighten skin instead. This type of clay helps to improve the skin's tone, boost blood circulation, and it makes your skin softer.
The claims about skin-tightening, I couldn't find any actual research, but it's clay and it's beneficial, so why not, right? Since it has all the good properties to make the skin pretty and healthy with its rejuvenation properties, it made all sense to me to mix it into this facial mask.
Hibiscus powder
I've had hibiscus powder in my DIY storage for a long time now and come fall, I decided to finally give it a go and use it so that I can start testing something new in the future.
If you did some browsing on hibiscus, you may have found eye-catching headlines that this plant is natural botox and as good as it gets.
Botox or not, hibiscus powder is loaded with antioxidants; it helps to slow down the signs of aging, evens out skin tone, promote skin healing process, and fights inflammations. It's suitable for all skin types and it gives a boost of hydration.
But that's not all. hibiscus is also rich in vitamin C and (as you'll soon see; I'm preparing anti-aging posts for you) this vitamin is important for collagen production. Hibiscus helps the skin to look healthy, youthful, and firm.
Caffeine
Caffeine is just awesome. You only need a little bit and I've used it in many of my recipes just because I love it. if you're not too familiar with serious lotion-making (which you can see how to make here), feel free to use your caffeine in this DIY depuffing facial mist.
Anyhow, caffeine boosts microcirculation, it helps to tighten skin, is a regular ingredient in anti-aging and anti-cellulite creams, and it's quite multifunctional.
Witch hazel
This is an obvious one, I know. You probably know witch hazel as an astringent that helps to shrink pores. Well, it can also tighten skin! the skin looks more rejuvenated and healthy. Above all, it also fights inflammation, feels refreshing, and it's quite affordable. Plus, you can get it easily!
Green tea extract
Green tea extract has anti-inflammatory and antioxidant benefits that help to slow down the signs of aging and fight free radical damage (that cause aging). It has rejuvenating and regenerating effects on the skin, helps to reduce puffiness, and, according to New Directions Aromatics,
Products enriched with Green Tea Extracts are known to further support skin health by moisturizing, stimulating circulation, and regulating sebum production, thereby exhibiting a positive effect on the complexion's overall tone, texture, strength, and resilience.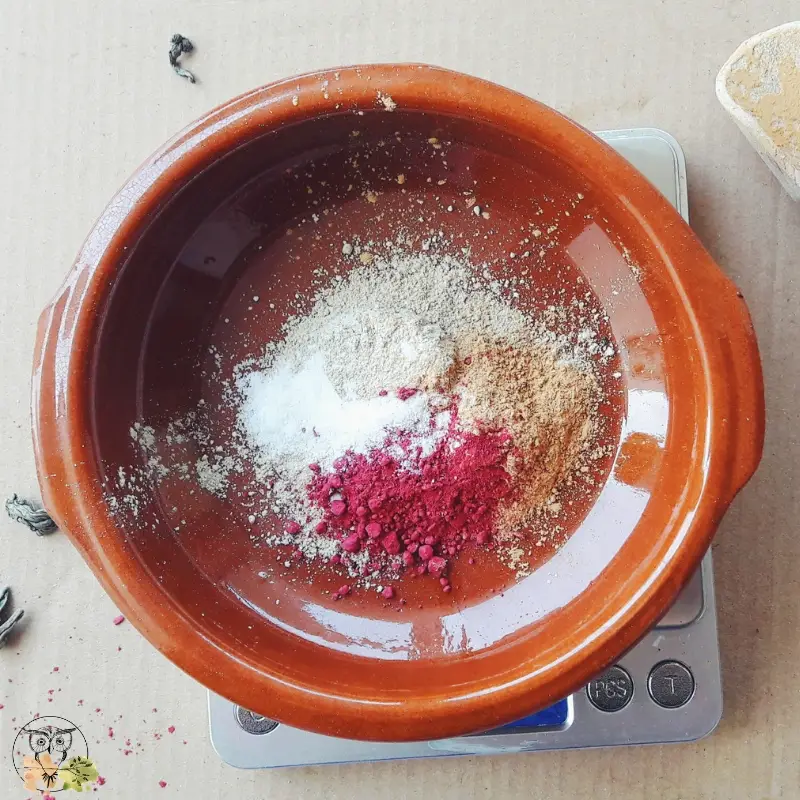 Green Tea Skin Tightening Face Mask
Ingredients for mask powder:
Ingredients for facial mask:
Process:
Weigh powders and combine them until all are thoroughly mixed
Store the powder mix in a clean dry jar in a cool place away from water and sunlight
To use:
You'll need 2 TSP powdered mix (about 2 g) and 2 TSP liquids (also about 2g: 1drop vitamin E oil, 1.5g witch hazel and 0.5g green tea extract)
Put powder mix in a bowl and add liquids bit by bit
Mix as you pour in the liquids until you get a thick smooth paste, lump-free
Apply to your face and let the mask sit up to 15 minutes
Rinse with warm water with small gentle circular movements
Pat dry and apply a moisturizer if needed
Notes:
if you have powdered green tea extract, you can use that instead of liquid extract. Add 5g to mask powder blend. When using the mask, blend the powder with witch hazel and vitamin E oil.
FAQ on skin-tightening
We've already talked a great deal about skin tightening in the skin firming cream I posted recently. But there are some additional questions you've been asking, so here we go:
What essential oils are good for skin tightening?
Frankincense, helichrysum, sandalwood, patchouli, geranium, lavender, and myrrh essential oils.
Is multani mitti good for skin tightening?
It is, that's why I've included it into the recipe.
Does vitamin E tighten skin?
Vitamin E helps to slow down the signs of aging. It has lovely benefits for the skin and it helps to minimize fine lines, wrinkles, and skin sagging. While it's used in small amounts, I had to add it to this skin tightening mask for face. Because it also prevents moisture to escape from your skin.
A recap: skin tightening mask DIY
You can easily make homemade mask to tighten skin. you only need a few ingredients and it's much more budget-friendly than buying expensive commercial face masks (that often contain fillers and nasties). This mask will give you a lovely boost and you'll feel your skin tighten with time. Don't use it every day as it's also cleansing (bentonite and all that), but once a week should do the trick!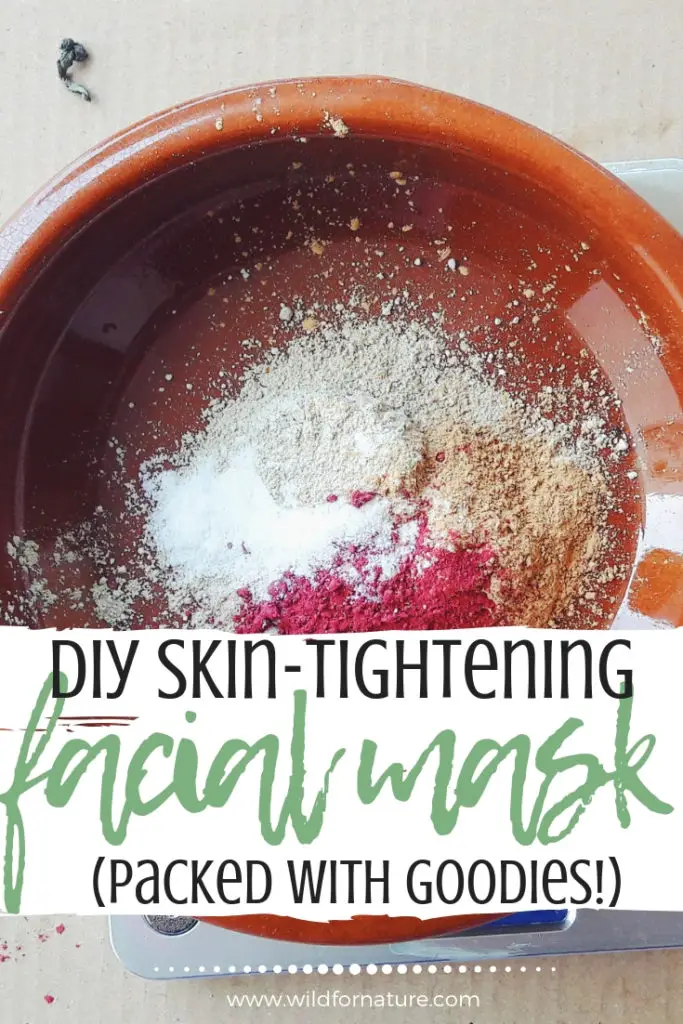 Have you made this skin-tightening facial mask? Tag us on Instagram #wildfordiy
Help support Wild for Nature
Many of you have asked if there's a way to help support Wild for Nature. I've signed up for Buy Me Coffee. If you love what I do, learn from me, sell anything you made from my recipes, and want to see Wild for Nature grow even more, I'd be thrilled if you'd consider buying me a coffee! It works as a one-time or a monthly donation of $3. You can also get beautifully designed PDFs with a series of recipes and other resources I publish there, to help you learn and get creative at home! I can then use that money to further develop and grow Wild for Nature and you can help me continue with wild creations and resources!