Autumn is here. And so is the dry and dull skin! But there's a natural and easy way to get your skin moisturized and glowing. With a simple pumpkin spice body coffee scrub!
Discover my decadent, fragrant, and gently exfoliating coffee scrub that'll glow and tone your skin. Plus, it comes together easily; it suitable also for complete beginners!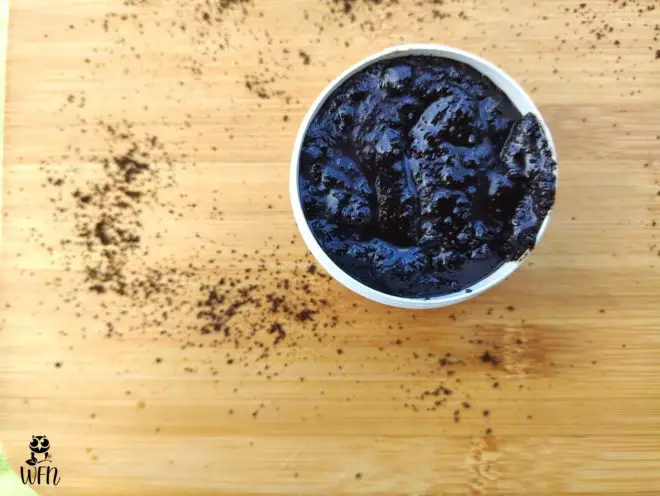 The recipe we're making today is an introduction to our fall-winter recipe series we're making this year, namely Pumpkin Spice. If you love all things cinnamon and pumpkin, you're in for a treat, especially as we're elevating all that with a fragrant and fresh scent of coffee.
You may have heard of Frank body and their famous coffee body scrubs. Well, our recipe today isn't much different from theirs.
In fact, the scrub is divinely gorgeous and it'll leave your skin soft, smooth, and fragrant. What can I say; a perfect treat for cold October nights and those self-care Sundays! If you dare, pair it up with a cup of steamy Pumpkin spice latte; you won't regret it!
My skin is a huge fan of this scrub especially because it doesn't turn my shower floor into a danger zone. We'll be including a solubilizer into the recipe, which will help you wash the scrub away with water yet it won't leave your skin dry. it'll be just smooth enough, but not critically oily.
Ready to get started? Let's have a look at the goodie ingredients we'll be using today!
Pumpkin spice body coffee scrub
Ground coffee
Yes, this is a star in the recipe, along with the glorious essential oil blend. Coffee grounds serve as an exfoliator in the scrub, and they're just about the only scrubby element we're using. It's fragrant, handy, and any coffee lover's dream (yes, mine included).
Coffee is a lovely exfoliator because it removes the dead skin cells gently enough and it makes the skin more glowing. It also helps to tone it and minimize the bumps. It improves circulation as well and tightens the skin as it helps to boost skin regeneration. According to this study, it helps to minimize the appearance of cellulite as well. So, if you were trying to find a recipe for cellulite, this scrub just may be it, and it's very budget-friendly! A bonus? It smells divine!
Fractionated coconut oil
We're using fractionated coconut oil as it's easier to work with once the temperatures get lower; it won't solidify (as the regular coconut oil would), which is what we want. That's one of the main reasons we're using it. Plus, it's also budget-friendly. After all, we're pouring this scrub down the drain so it doesn't make sense to use luxurious carrier oils since this coffee body scrub is not a leave-on product.
Anyhow, fractionated coconut oil is quite versatile. Some even say that it's less likely to clog pores than regular coconut oil and is more easily absorbed into the skin, which is also what we want.
Pumpkin seed oil
Pumpkin seed oil is the star of our Pumpkin Spice series and it's high time that we stopped neglecting it. It's a very beneficial carrier oil and rich in a number of nutrients and components that can help your skin in a number of ways.
It has anti-aging effects, it helps to minimize and soothe acne-prone skin, it boosts skin regeneration, and improves its firmness. It promotes youthful appearance of the skin, boosts its healing process, and has anti-inflammatory and antibacterial properties.
Now tell me that doesn't sound interesting!
Polysorbate80
Polysorbate80 isn't a natural ingredient, but since we're using it in a product that rinses off the skin, I don't really mind. It emulsifies when in contact with water so it improves the rinse off of the scrub. It doesn't strip the skin of its natural oils though (at least not in this recipe) as we're not using too much; just enough to remove the oily deathtrap from your shower floor.
Vitamin E oil
This is practically a standard ingredient in all oil-based products, as it helps to prevent the oils from going rancid. What's more, it also a lovely ingredient for the skin as it's quite beneficial and nourishing. Keep in mind though, that vitamin E oil isn't a preservative and it won't protect your scrub from growing mold and bacteria if you splash and pour water into it.
Pumpkin spice essential oil blend
As I said, we're replicating the scent that reminds us of all things autumn. In this blend, I used cinnamon essential oil, which smells downright divine in my opinion. It's warming, spicy, fragrant. Apart from that, it helps to calm down dry skin (which is perfect for autumn-winter skin), it has anti-aging properties, and it helps to soothe tense muscles.
Next, I've combined cinnamon oil with orange essential oil. That combo is my all-time favorite, but you can use another citrus oil instead (sweet orange and tangerine would both work very well). Orange oil helps to improve the texture and the appearance of the skin. It promotes its smoothness and circulation.
Last but not least, the blend wouldn't be complete without cardamom essential oil. Yes, you can omit it if you have none, but the blend won't be the same without it *wink*. It helps to boost circulation and revitalizes the skin. What's more, it promotes glowing, healthy, and toned skin.
How do you make coffee body scrub?
The process of making this gorgeously fragrant coffee scrub is very simple.
First of all, we coconut and pumpkin seed oil in a beaker. Next, we add in Polysorbate80 and stir well. Repeat the process with vitamin E oil and essential oil blend.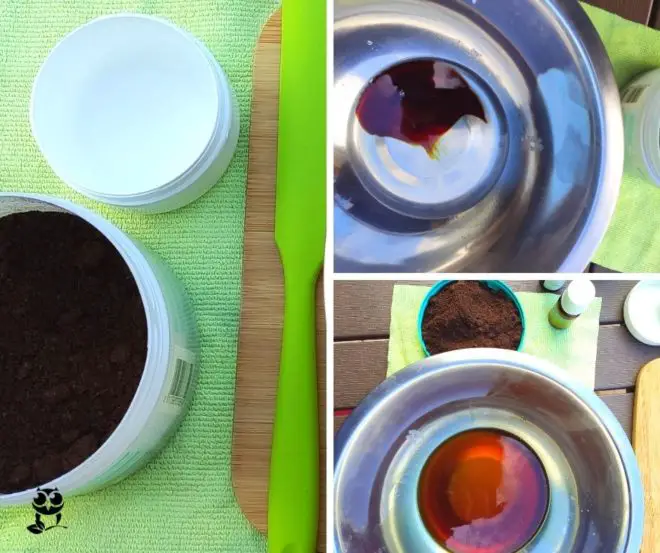 Once the liquid part is all well mixed and combined, we're ready to add ground coffee. Add it into the mixture bit by bit, stirring well in between. Once you've used all the coffee, the scrub is ready!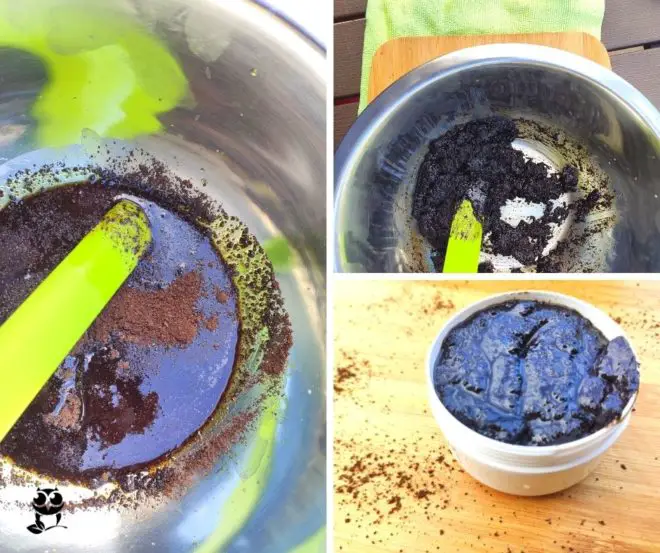 Now, before we get to the actual recipe, a word on ground coffee. Personally, I find that fine to medium grounds works best so that the grounds don't damage the skin (which may happen if using a coarsely ground coffee).
And the other thing: if you're making the scrub for yourself and want to reuse grounds you've already brewed your coffee with, you can add used coffee grounds to the scrub. Doing so would be quite frugal and I've done it a few times myself. But! The scrub will have none of that decadent coffee scent; it'll smell rather dry and stale. You can easily cover that up with the essential oil blend we're using though, as cinnamon is quite powerful.
Pumpkin Spice Coffee Body Scrub
Ingredients:
Process:
Weigh coconut oil and pumpkin seed oil in a jar/beaker/container
Stir well and weigh in Polysorbate80.
Next add essential oils and lastly add a few drops of vitamin E oil.
Stir the mixture well before you add in ground coffee
Add grounds slowly and stir well in between.
Once you've used all coffee grounds, your scrub is ready!
Pack it into a 120ml clean container and use it at will!
To use, scoop a smallish amount of the scrub from the container and put it into a shower-safe cup to bring into the shower (and leave this main batch somewhere dry and safe from water and humidity). This recipe is preservative-free, so water can cause mold and bacteria to grow in the scrub.
Notes:
Omit cardamom essential oil if you have none
You can reuse your old coffee grounds but make sure they're completely dry
What does a coffee scrub do?
Coffee as a scrub has a number of benefits for the skin, you can read more about coffee scrub benefits and how to use it in a facial scrub.
But in short, coffee can minimize the signs of aging, the appearance of cellulite, and it is a completely natural exfoliant that you probably keep around at all times and it smells divine. If you're looking for an invigorating body scrub to make your day, then coffee is definitely an easy choice.
How do you use coffee scrub?
You use coffee scrub as you would any other scrub. Apply it on damp skin with circular movements, after you've showered. When you're done massaging, rinse the scrub off your skin with water. And that's it!
Help support Wild for Nature
Many of you have asked if there's a way to help support Wild for Nature. I've signed up for Buy Me Coffee. If you love what I do, learn from me, sell anything you made from my recipes, and want to see Wild for Nature grow even more, I'd be thrilled if you'd consider buying me a coffee! It works as a one-time or a monthly donation of $3. You can also get beautifully designed PDFs with a series of recipes and other resources I publish there, to help you learn and get creative at home! I can then use that money to further develop and grow Wild for Nature and you can help me continue with wild creations and resources!