Did you know that commercial cleansers can be quite harsh to your skin? They can throw it out of balance, causing more irritated, dry skin with breakouts. But you can avoid all that by making the switch to a more natural option!
Making a gentle emulsifying cleanser at home isn't science fiction. In fact, it can be done in about 20 minutes. Making large bathes allows you to stay on the budget, keeping your face and your wallet happy at the same time!
Click to discover an easy recipe for an emulsifying cleansing balm with gorgeous pumpkin seed oil!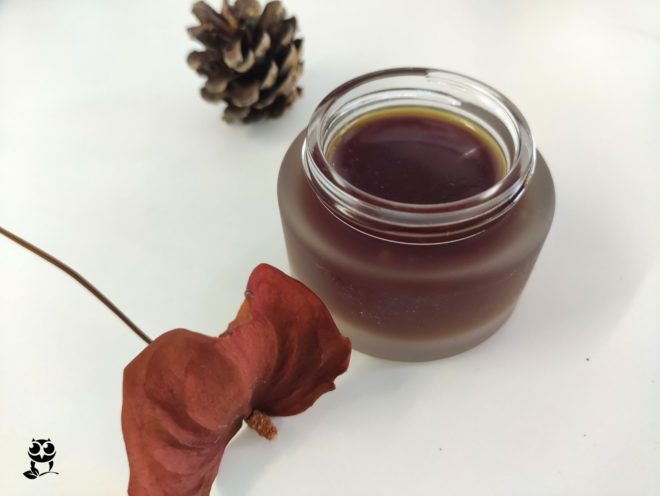 To continue with our Pumpkin Spice recipe series (we've made this decadent coffee scrub and an antiaging CoQ10 facial oil), today we're making a creamy cleansing balm that emulsifies on contact with water. Why would that matter? Because it helps to remove makeup and thoroughly cleanse your skin!
Don't get me wrong; oil-cleansers are excellent and I use them quite often (you know, oil-cleansing method and all that). But these cleaners leave an oily residue on your skin, which can lead to skin issues, such as acne when you don't follow up with a second cleanser.
This is where my emulsifying cleansing balm comes into play! I've already made one (as a part of the Shea&Hemp Recipe series) earlier this year and it hasn't left my bathroom ever since and for a few reasons
It melts away makeup
It doesn't leave any greasy residue
Easy and quick to make
How do you emulsify a cleansing balm?
Easily; all you need is an emulsifier (we're also adding a solubilizer to help it remove grease from the skin), which will change the creamy oil base of the balm into a milky solution when it comes into contact with water! The combination of Olivem1000 and Polysorbate80 will help the balm to emulsify and completely remove any oily residue, leaving your face squeaky clean (yes, it removes some makeup too!), but soft without drying it out.
Ingredients you need for cleansing balm recipe
In order to make this cleansing balm, you'll need a few of the ingredients we've already used in the other recipes:
Grapeseed oil, which is a lightweight oil that boosts elasticity and is suitable for oily skin too.
Pumpkin seed oil is a cocktail of nutrients that slows down the signs of aging, boosts collagen production, may minimize acne with its anti-inflammatory properties.
Vitamin E oil is an antioxidant that's nourishing for the skin, and it helps to prevent the oils and butters from going rancid in the recipe.
Orange essential oil adds a lovely scent to the cleanser. We're only using a few drops and it contributes to the overall autumn feel we're recreating with this recipe series.
To hold the shape of the balm together and make it creamy, we're using mango butter as our base butter. Mango is a creamy butter that's not as greasy as shea and leaves the skin smooth and soft. I highly recommend you give it a try!
To boost the creaminess of the balm even further and to counterweight the greasiness of the oils, we're adding cetyl alcohol into the mix. We've used it regularly in the Christmas 2019 recipe series. It's an emollient, makes the skin soft and the balm even creamier. See here why I recommend it in DIY skincare.
Last but not least are the two ingredients that help to wash off makeup and thoroughly cleanse our skin:
Olivem1000: this is an olive emulsifying wax, it's natural and effective. It's not the most budget-friendly option to use in rinse-off products (you can also use it as an emulsifier in lotion and cream formulations), but I've gotten so used to it that I can't imagine a cleansing balm without it at this point (until I discover a new emulsifier to play with *wink*)
Polysorbate 80: a solubilizer that helps to remove oil and greasy residue from the skin; it's not natural, but it works like a charm. We've already used it in our coffee body scrub from last month and Lime & Coconut Body Scrub.
How to make emulsifying cleansing balm?
This DIY emulsifying balm comes together quite easily. We weight the majority of ingredients in a beaker and melt them. Then, remove the beaker from heat and stir in the last four ingredients (pumpkin oil, essential oil, and vitamin E oil).
And that's it! Pack the cleansing balm and use it at will! It's completely suitable to be used twice a day if you so wish.
This recipe makes about 45g of the balm, I store it in a 50g container.
Pumpkin DIY Emulsifying Cleansing Balm Formulation
Ingredients:
Process:
Prepare a water bath: add 3cm/1" of water to a wide pan. Bring the water to simmer (low-medium heat).
In a heat-resistant glass measuring cup, weigh mango butter, grapeseed oil, cetyl alcohol, olivem1000, and polysorbate80
Place the cup in a pan to melt all the ingredients (it should take 15-20 minutes)
When fully melted, remove the cup from the water bath
Take another pan/bowl, and fill it with cold water (3cm/1" will do). Place the cup with the balm into the water and stir it slowly for 5 to 10 minutes. We want it to cool down before adding the last 4 ingredients (pumpkin oil, vitamin E, and essential oils).
Next, stir well and pour into a dry, clean container
Let it completely cool until you close the lid.
And that's it! you've just made an emulsified cleansing balm!
Notes:
Have you made this Emulsifying Cleansing Balm Formulation? Tag me on Instagram: #wildfordiy!
Help support Wild for Nature
Many of you have asked if there's a way to help support Wild for Nature. I've signed up for Buy Me Coffee. If you love what I do, learn from me, sell anything you made from my recipes, and want to see Wild for Nature grow even more, I'd be thrilled if you'd consider buying me a coffee! It works as a one-time or a monthly donation of $3. You can also get beautifully designed PDFs with a series of recipes and other resources I publish there, to help you learn and get creative at home! I can then use that money to further develop and grow Wild for Nature and you can help me continue with wild creations and resources!