Want to shine and glow? Why not make this lovely DIY shimmering body oil with me? It's right there with the seasonal spirits and I promise you'll stand out at the new year's eve party, no matter where you go!
Ever since I got the last pack of shimmering micas, I'm all about glow and glitter. It may be the micas, it may be lights twinkling everywhere, or it may be that I wanted something simple yet luxurious. In any case, we're making DIY shimmer oil and you can whip this one up in a matter of minutes!
But this recipe was actually inspired and based on the Body Shop Shimmer Oil. I remember buying that a long time ago and I remember thinking wow, such magic! So, now I have those gorgeous micas and I wanted to make my own, my precious homemade body oil for glowing skin.
DIY Shimmering Body Oil for the holiday season
Now, I've been drowning in work and last-minute Christmas presents lately and I really wanted something that would be easy to make.
And I remembered…years ago, I owned this gorgeous body oil from Body Shop that I was addicted to. Seriously, I loved it a lot, and come December, I'd slather it all over me no matter where I went (a little obsessed, I know).
But then I quit the Body shop (and many other well-known brands) and got an epiphany; I can make my own shimmer oil. I repeated it twice more, just to make sure I was really hearing what I said: I can make my own shimmering body oil. I have all the ingredients and it definitely ain't no rocket science!
When making this luxurious oil recipe I haven't really paid any specific attention to the ingredients, as this product is not meant to soothe or cure anything. It's meant to look pretty and smell amazing!
And it does that quite successfully!
1000% vegan.
Illuminating: check!
Glowing skin: check!
Easy to make: check!
Easy to use: hell yes!
And, it's obviously cruelty-free. Which I can't say for the Body Shop.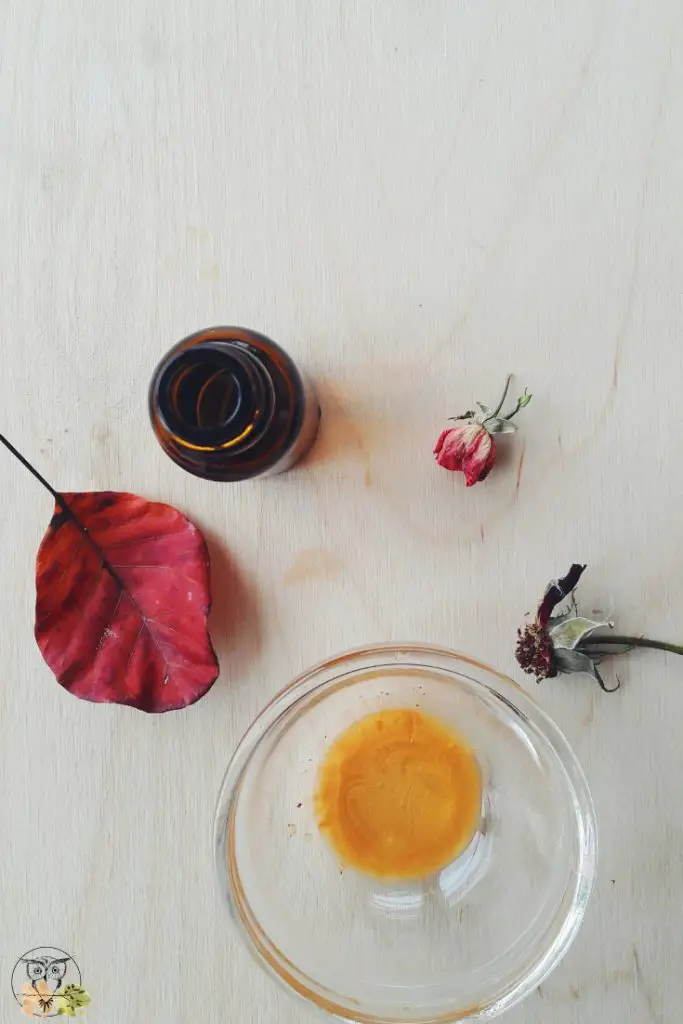 Choose the best natural oil for glowing skin
I'd recommend you to use a carrier oil that your skin loves but at the same time also something that's not too pricey. Steer clear from anything in the area of rosehip, argan, hemp seed oil, safflower oil, and similar luxuries. After all, we'll be applying this to your body and not your face.
For this body glow oil, I went with grape seed oil, simply because I love it; it absorbs quite fast, it's affordable, and I've already had a large batch of it at home since it's a regular in my homemade skincare.
Now, if grapeseed isn't your thing, you can choose from the following:
In my post on cardamom DIY shimmering body butter, I showed you how to make a body butter less greasy (and it's such a simple trick with amazing results!). But I haven't mentioned how to make a body oil less greasy before, so it's high time we cover that too.
How to make body oil less greasy?
You'll want to glitter and look gorgeous and glowing, but not greasy, which absolutely makes sense! Since I'm spending my New Year Eve in the warmer places of the planet this year, so I wanted something that I can tolerate during the summer heat. And that means, nongreasy body oil!
And the trick is isopropyl myristate, a synthetic oil. It is an ester of isopropyl alcohol and myristic acid, vegetable-derived. According to MakingCosmetics, its benefits are:
Superior emollient for non-greasy bath, body, and baby oils
Light & non-tacky emollient for creams and lotions. Readily adsorbed by the skin
When used at high concentrations it gently lifts makeup and surface dirt
Resistant to oxidation (does not become rancid)
The suggested use is between 5% to 10%, but its comedogenic rating is 5. If your skin is acne-prone, make sure to avoid it in any facial skincare recipes. Still, it helps to reduce the greasy feeling on the skin, it also improves the applicability of the oil.
Tips on DIY body glow oil
After a while, the mica in the powder will settle on the bottom of the bottle. To resolve this problem, simply stir/shake/roll the bottle before each use
The essential oil blend is optional; I wanted something luxurious that would also give me a scent (and consequently enable me to avoid all heavy perfumes in this humid area). But you're welcome to choose your own blend. Optionally, you can also choose an absolute of jasmine or rose and add more of that oil and reduce the amount of the carrier oil in the recipe.
Also, depending on the powerful fragrances used, use somewhere between 5 to 10 drops of essential oils.
Instead of a pump bottle, you can go with a dropper bottle; it would also make the application easier!
When it comes to micas, there are a few variations. I chose golden, but any shimmering type would do. Feel free to choose from bronze, copper, and silver micas as well. You can also make a blend of more micas (bronze and silver, copper and gold) to achieve the desired effect!
When choosing carrier oils, steer clear from anything heavy. Most definitely I don't recommend using castor oil!
Shimmering Body Oil for the Holiday Season
Ingredients:
– 20ml grapeseed oil
– 1.5ml Isopropyl myristate (synthetic oil that helps to lose the greasy feeling on the skin)
– 5 drops geranium essential oil
– 3 drops jasmine essential oil
– 2 drops vitamin E oil
– 2g golden mica
– 25ml pump bottle
Instructions:
Measure and weigh all the ingredients
In a beaker, combine them one by one
Stir well until you have mica powder well incorporated into the recipe
Pour into a 25ml pump bottle
Apply as needed and glow!
Notes:
When adding mica, start slow and gradually add more. I'm perfectly happy with 2g of mica in the final product, but you may want to add more/less, depending on the glow you want to achieve
I wish you all the fun while making and wearing this shimmer body oil!
Stay Wild!
Have you made this recipe? Tag us on Instagram #wildfordiy
Help support Wild for Nature
Many of you have asked if there's a way to help support Wild for Nature. I've signed up for Buy Me Coffee. If you love what I do, learn from me, sell anything you made from my recipes, and want to see Wild for Nature grow even more, I'd be thrilled if you'd consider buying me a coffee! It works as a one-time or a monthly donation of $3. You can also get beautifully designed PDFs with a series of recipes and other resources I publish there, to help you learn and get creative at home! I can then use that money to further develop and grow Wild for Nature and you can help me continue with wild creations and resources!