Wild morning to you! Coconut oil hair mask can be a great addition to your hair cosmetics, especially if you have problems with split-up ends, dry and tired hair that feel like a rough towel instead of a silky scarf. I have curly hair and sometimes they are a proper nightmare. Well, to be honest with you, I don't always pay my 100 percent attention to my hair since they tend to take a lot of time now and then, especially in windy and humid conditions. Oh, and when it's too sunny and hot as well. And when it's too cold. Basically, a l l the t i m e.
Coconut oil love story.
First thing's first. My hair hasn't become dry and destroyed overnight. True, curly hair has a tendency of split ends already, before you even start doing anything to it or about it. But then I made that horrible mistake when I was young(er) and stupid, I decided to dye my hair. And then there was this whole period of experimenting with dyes and blanching hair and so on. I know, I know, I've been punished.
And then there was a revelation. I discovered coconut oil and all its beautiful uses. And my hair was all of a sudden full of life, light, shiny and soft. It's amazing really, how a small teaspoon of coconut oil can change the destiny of your hair.
What kind of coconut oil do I use?
I always keep a jar of organic and non-refined coconut oil in my kitchen cabinet (yes, kitchen. I use coconut oil for a number of things, but more on this later). Before I buy it, I read the label and make sure that it is:
Non-refined
Organic certified
Cold-pressed
100% pure
Free of trans acids
How often do you use coconut oil treatment?
I apply coconut oil to my hair twice a month at the moment. The thing is, you can apply it as often as you'd like; either weekly or monthly.
Sometimes I leave coconut oil on my hair overnight (yes, I sleep with a plastic bag wrapped around my head), rinse it and wash it in the morning. I figured that the longer I leave the mask on, the happier my hair is. Sometimes I apply it in the morning and wash it later on in the day. The most important thing that I've noticed is to leave it on at least for a couple of hours. Normally I wash it off only about 3 to 4 hours after I apply it.
What do I need for coconut oil treatment?
A few spoons of coconut oil (depending on the length and thickness of your hair)
A clip
A plastic bag or a shower cap
A towel
The procedure is fairly simple:
Apply coconut oil to dry hair (not wet). I put three spoonfuls of coconut oil into a separate cup (from the original package).
Scoop out the oil and slowly massage it in my hair bit by bit, until all of it is covered in it. I primarily focus on my hair and not too much on the scalp. I also don't heat up the oil as it starts to melt once it comes in contact with the skin.
Once I've applied coconut oil to my hair, I twist it into a bun and clip it in place. I cover my hair with a plastic bag (I don't' have a shower cap), wrap it in a towel and go do other stuff while waiting for the oil to do its magic (cooking, polishing nails, drinking tea, reading…).
After a certain period of time, I wash it off. Firstly, I rinse it with warm water. Secondly, I shampoo my hair as I would normally. I wash off the shampoo and repeat the procedure if the hair is still too oily. In the end, I apply conditioner (I never leave my bathroom without applying the conditioner) and wash it off after a few minutes.
I towel dry my hair and let fresh air do the rest.
Coconut oil treatment tips:
If you're short on time, you can apply heat to your bundled hair with a blow-dryer. This way the treatment will be faster and you don't need to wait too long to wash the mask off.
In case you have an essential oil lying around, check this guide and see if it could add extra value to the mask. Try adding a few drops of essential oils. Essential oils may simply be that extra twist; depending on your hair type you could choose, for instance, thyme essential oil for hair growth, tea tree oil to fight dandruff, rosemary essential oil to aid with hair loss, etc.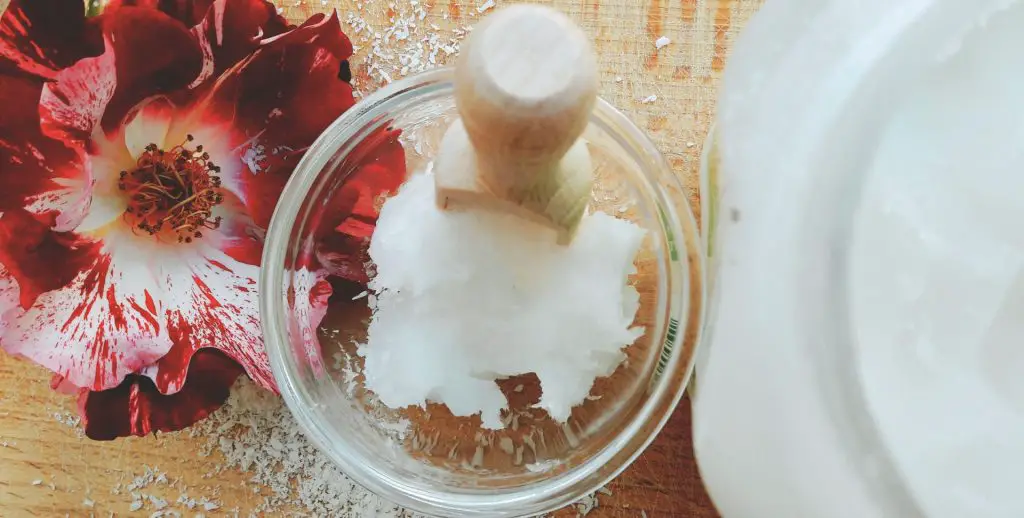 The benefits of coconut oil hair treatment.
It's simple and natural
Stimulates hair growth
Anti-dandruff
Protects hair from damage
Serves as a moisturizer (it does indeed!)
Rich in nutrients (Vitamin E, K, and iron)
Don't forget to stop and smell the flowers!
Save
Save