Guys! I've made a great, rich and effective and just the best skin tightening cream. And I'll take you through all the steps so that you can enjoy it at home as well.
So, I'll cut the cuteness and get straight to the point, because this cream really works! I know you want to know what's in the recipe! Click to read more…
With summer coming up, I decided to sit down and do my research on how to make skin appear nicer and more toned as well as healthier. In the beginning, my main focus was to find the best anti cellulite cream, but with a bit of research decided to combine two problems into one cream since they're often connected: cellulite and skin firming.
I specifically formulated this cream for all who need to boost their skin, the elasticity, and the tightening. I picked up and read through dozens of lotions on the market and even the pricier ones still gave me only empty promises with many fillers and very little functional ingredients.
Now, we've been testing this lotion for the past months and the results are promising and amazing! I believe it's high time to share the recipe with you.
First of all, this cream is completely vegan.
It's rich and creamy and lightweight.
Yes, it soaks in fast but a little goes a long way!
Effective and gentle, it delivers!
Extremely affordable compared to products that are available on the market. Yes, you splurge a little when buying the ingredients, but just think about how many batches you can make with those ingredients! (four or five, I believe it should be four or five batches)
Overall, this is, in my opinion, and according to tests, the best skin tightening cream for body that I've set my hands on.
Oh, and it's not meant to target only one part of your body; you can use this skin tightening cream for stomach or for legs; depending on the location with loose skin. I use it mainly on my thigs as I'm trying to minimize cellulite there and on my chin-to-cleavage area as it's something I'm not particularly happy with. One of my friends applies it to her arms as well, and everywhere else. I'd say you can freely use it everywhere but on your face.
Skin firming ingredients
Let's have a look at the ingredients I've used in this cream. The most important ones are the following, and I've also used the highest percentage of them:
Gotu kola extract
Also known as Centella Asiatica, I've only discovered Gotu kola when looking for effective ingredients that have some potential and research linked to skin firming. Now, I've firstly mentioned Gotu kola on the blog when talking about stretch mark remedies.
But I acknowledged its existence when I started doing research for this body tightening cream. And I found studies supporting Gotu kola as an effective thing to treat cellulite:
The positive effects of the treatment of cellulite with the C. Asiatica extract were confirmed by a few clinical studies that used different methodologies.
So, I had cellulite covered and I was excited to read even more about the plant. After all, Gotu kola is great for skin tightening as well. I mean that damn plant is super versatile and all over the place!
According to this study, Centella, in combination with Boswellia and milk thistle extract, produced satisfying results when it came to skin tightening:
A very significant improvement in the biomechanical properties (extensibility and firmness) of the skin. This increase was statistically significant.
After months of testing, I can confirm that it really works as a skin-tightening agent, but I'm not yet sure about cellulite.
Oh, and FYI: I formulated this recipe with Gotu kola macerated oil in sunflower oil and Centella extract. It's oil-soluble and I've added it to the last, cool-down phase of my recipe.
Caffeine powder
Since the cream also targets cellulite, caffeine is a must. I've included it into a few of my recipes (my fave is de-puffing facial toner) and it's a bit more challenging to get. That doesn't mean it isn't completely worth it!
So, caffeine boosts microcirculation and with it, reduces water retention. According to Ingredients to Die For,
In a Journal of Cosmetic Medicine (2008) article it was reported to have been very effective for 80% of the subjects tested. The treatment was analyzed after 30 days with 2x daily applications of a 7% treatment. Noticeable slimming effects were noted for the lower and upper thighs as well as the hips.
Caffeine helps to improve the texture of the skin, making it smooth and soft.
But, a word of caution: some people are sensitive to caffeine. If you're careful around your coffee, you should be around caffeine powder as well. It has the same effect no matter whether you drink it or apply it topically.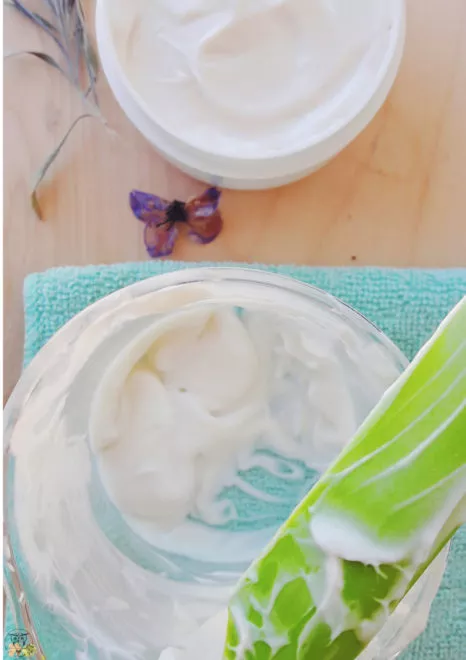 Avocado butter
It's moisturizing and emollient and it's not the same as the avocado oil. But most importantly, it has skin tightening properties. This was my first time trying avocado butter and I absolutely love it. It's a bit lighter than shea butter and it incorporates into the recipes very well.
It's very rich in vitamins, minerals, and beta carotene. It helps to rejuvenate the skin and it helps to boost skin healing and regeneration, which is great if you need to give your skin some boost! Avocado butter is also a great ingredient for anti-aging skincare.
What's more, it boosts collagen production and skin's elasticity! Even if you're not making this skin tightening cream for body, I'd still recommend you give avocado butter a try!
Macadamia nut oil
It's rich in essential fatty acids and it's a medium oil that can handle heating up and cooling down phases of your recipe making. It's stable and it leaves the skin pleasantly soft.
What's more, this oil helps to regenerate the skin and soften it at the same time. The main reason I decided to include it? For its amazing regenerating properties and rich component profile. It's easy to work with and a very stable oil.
Grapeseed oil
Grapeseed oil is one of my favorites. The good thing is, it can also be used to tighten the skin a bit (I knew it had it in it!) and it can supposedly also help with stretch marks.  And that's not it, it also helps to reduce the appearance of cellulite!
Grapeseed oil tones and tightens skin, boosts circulation, and making the skin softer and protected from the sun damage.
Dragon's blood extract
Last but not least, this one would be a star of the recipe if I hadn't included Gotu kola. Dragon's blood extract is a thick and rich resin; even the extract has slight smells of resin in a faintly pleasant way.
Anyway, I've also written about dragon's blood as one of many potential striae remedies. And it has nothing to do with dragons, sadly (I always believed dragons are cool!). Dragon's blood is obtained from the Dragon Tree or Croton Lechleri. The extract is loaded with powerful skin healing and boosting properties.
It has been used for centuries and it's most valued for its powerful regenerating properties. It can minimize wrinkles, rejuvenate the skin tissue. According to some research, dragon's blood should make a collagen filling in the tissue, helping to regenerate the topmost layer of the skin.
What's more, it helps to prevent water loss, improve skin's texture and tone, and it even helps to minimize the damage of the sunrays.
Other ingredients used in firming lotion
Apart from these, I've also included the following ingredients that deserve a few words:
Niacinamide
Also known as vitamin B3, niacinamide found its way into the recipe because:
It helps to minimize the damage to the skin
Regenerating properties
Tones skin, helps to remove that dullness
Very friendly to the skin
Cetyl alcohol
Let's make something clear; I didn't include this one for the skin benefits, but for making the cream more luxurious. And it succeeds nicely, I was really impressed by how my skin tightening cream for body looked like when I made it.
It looks thick and creamy, with great consistency. But! It spreads on nicely and it's not greasy at all. A little goes a long way. Here's what cetyl alcohol does:
Thickens the cream
Has moisturizing and emollient properties
Don't let the name fool you. According to New Directions Aromatics,
on the contrary, Cetyl Alcohol is skin-friendly with hydrating, conditioning, and softening properties that benefit both skin and hair. It is an alcohol that is derived from a fat, such as a vegetable oil like Coconut Oil or Palm Oil; hence it is also called Palmityl Alcohol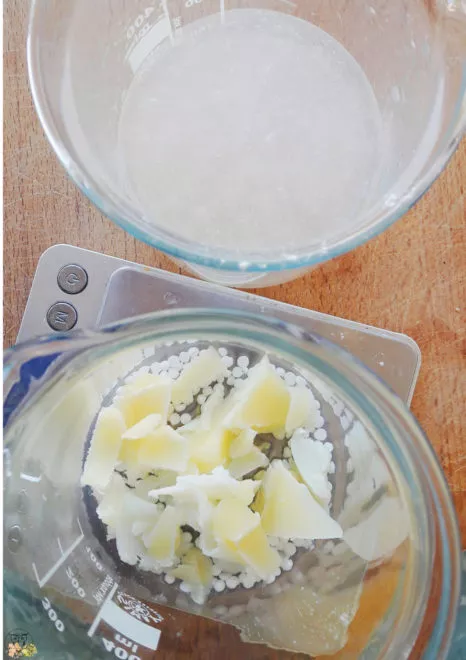 Apart from these ingredients, I've used a preservative, which you cannot do without in this case. I've also used Phytocream 2000 (INCI: Potassium Palmitoyl Hydrolyzed Wheat Protein, Glyceryl Stearate, Cetearyl Alcohol) as my emulsifier as I'm a huge fan of it. It's easy to work with and it gives creamy, soft emulsions that the skin loves. I know it's difficult to get online, so I have also tested this recipe with Olivem1000 (INCI: Cetearyl Olivate (and) Sorbitan Olivate) and it worked out great! If you don't have Phytocream, feel free to substitute it with Olivem1000 (not Olivem900).
And, in terms of essential oils, you can choose your own blend or omit them altogether. I've added essential oils to a few of the final products and omitted them in others. It's all the same to me, but you may want to decide.
Altogether, this cream will make you about 220g.
Best skin-tightening cream for body DIY
Ingredients:
Water base
Oil phase
Cool-down phase
Process:
Prepare a water bath: add 3cm/1" of water to a wide pan. Bring the water to simmer (low-medium heat).
Weigh water phase ingredients in a heat-resistant glass measuring cup
Weigh the oil ingredients in a second heat-resistant glass measuring cup
Place both beakers in a pan to melt all the ingredients (it should take 15-20 minutes)
Next, take both beakers/cups from the water (all ingredients should be melted and dissolved fully by this point). Pour the water phase into the oil phase. Take your immersion blender and begin blending the lotion. Blend for about 5 minutes and leave the lotion to cool down. You'll want it to be below 104F/40C degrees before you continue with the last, cool down, phase. The emulsion has to be below 40C or the heat can damage the final few ingredients.
Once your lotion has reached the desired temperature, add Gotu kola and stir well. Next, follow with dragon's blood extract and stir well, repeat the same with essential oils.
Add cosgard as the final ingredient. Turn on the immersion blender and keep blending for another minute or so. The lotion should get the proper creamy and thick consistency.
Transfer the body cream to a clean (sterilized) container.
Pack it nicely and enjoy your new skin-tightening lotion!
Notes:
FAQ on skin-tightening process
Before you head off, let's talk about a few important things related to skin tightening.
Do skin firming creams really work?
That depends on the cream. Now, I can't tell you a 100% that all skin firming creams all work, but I've tested this one with a few friends and we can all confirm that it's very effective.
How do you fix skin elasticity?
It's difficult to fix elasticity of the skin as we age. But, it's doable. You can opt-in for the medical procedures, but these can be pricey. If that's not your thing, there are a few tips you can use to boost your skin's elasticity:
Boost collagen production in the body
Use SPF; sun rays destroy elastin and collagen
Regular exfoliation
Certain products can help boost elastin production
Exercise regularly
Try a derma roller
Try dry brushing
How can I increase collagen in my skin?
There are a few ways to increase collagen in your skin, but let's talk about the one that doesn't work: collagen creams. While you'll find many claims everywhere how collagen creams really work wonders for your skin, they really don't. According to Paula's Choice,
Skin-care products may contain collagen or elastin, but the collagen and elastin in these products cannot fuse with the collagen and elastin in your skin to help rebuild or reinforce those structures. The molecular sizes of both collagen and elastin are too large (WAY too large!) to penetrate the skin's surface. In some products, the collagen or elastin is supposedly "reengineered" to be made small enough so it can be absorbed into the skin, but even if nano-sized, these ingredients still will not fuse with the collagen and elastin in your skin. Any claims to the contrary are not supported by independent, peer-reviewed research. More important: How would the collagen and elastin you applied all over your face know what collagen and elastin to attach to in your skin and which to leave alone?
Now, back to what works:
Think collagen supplements
Quit sugar, smoking
Never leave the house without using SPF first
Keep hydrated
Add massages to your weekly routine
Eat healthier
Drink plenty of water
Which collagen is the best?
I've recently posted an article on the best vegan collagen supplements. Have a look at it to find the best supplement for you.
What vitamin is good for skin elasticity?
The best vitamins that support skin elasticity are:
Vitamin E
Vitamin C
Vitamin B3
This is the most commonly used vitamin B in skincare (that's how it found its way into my recipe as well). Scientific studies have shown that this vitamin can help boost collagen production, minimize the signs of aging, and improve the elasticity of the skin. It helps to protect the skin from the environmental damage, from the free radicals.
The derivates of vitamin A are known as retinoids or carotenoids. According to scientific research, retinol boosts collagen and elastin production (also in aged skin). apart from that is vitamin A a very powerful antioxidant which means it helps to prevent skin damage and, according to School of Natural Skincare, it helps to
build collagen fibres within the dermis, helping to strengthen the tissues in the skin, restore elasticity in the skin and thus, repair or more efficiently improve wrinkles and fine lines caused by frequent sun exposure.
Have you tried any skin-firming creams? Do they work for you? How do you keep your skin healthy and elastic?
Stay Wild!
Kat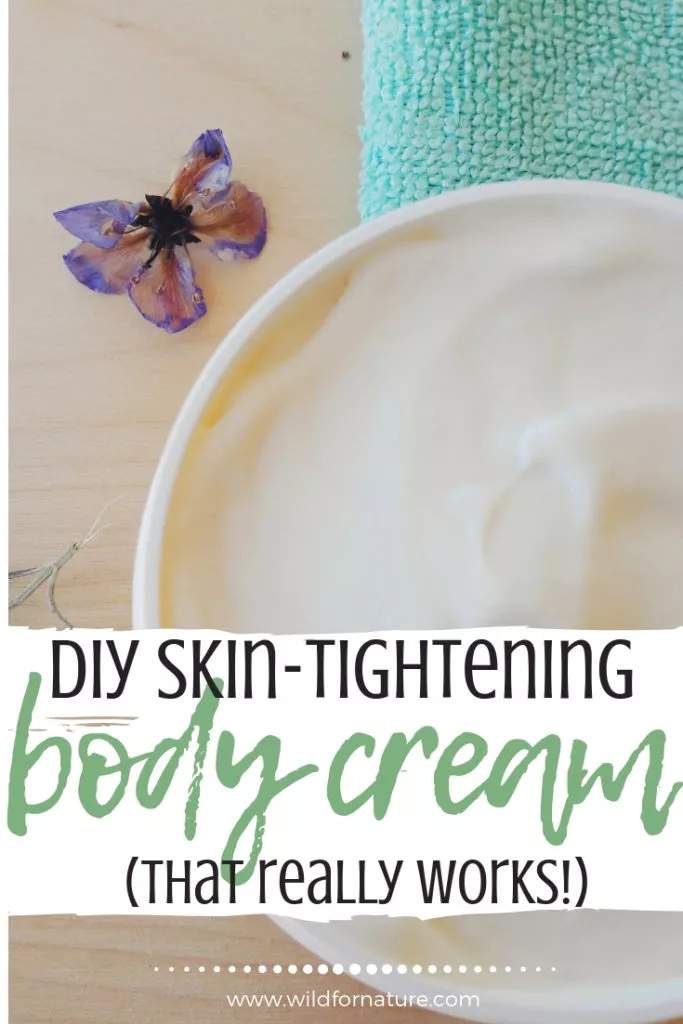 Have you made this recipe? Tag us on Instagram #wildfordiy
Help support Wild for Nature
Many of you have asked if there's a way to help support Wild for Nature. I've signed up for Buy Me Coffee. If you love what I do, learn from me, sell anything you made from my recipes, and want to see Wild for Nature grow even more, I'd be thrilled if you'd consider buying me a coffee! It works as a one-time or a monthly donation of $3. You can also get beautifully designed PDFs with a series of recipes and other resources I publish there, to help you learn and get creative at home! I can then use that money to further develop and grow Wild for Nature and you can help me continue with wild creations and resources!