Yes, I love winter, the holiday season, and all the spices, smells, and fragrances that go with it. That's why I prepared a list of the best essential oils to have in winter. If you're such a fan as I am, I'm sure you'll love this list of winter essential oil diffuser blends!
Okay, you can actually use these essential oil blends in your DIY skincare recipes as well. I sometimes do, but they're mostly more appropriate for body oils and butters than anything facial related, as they're really strong.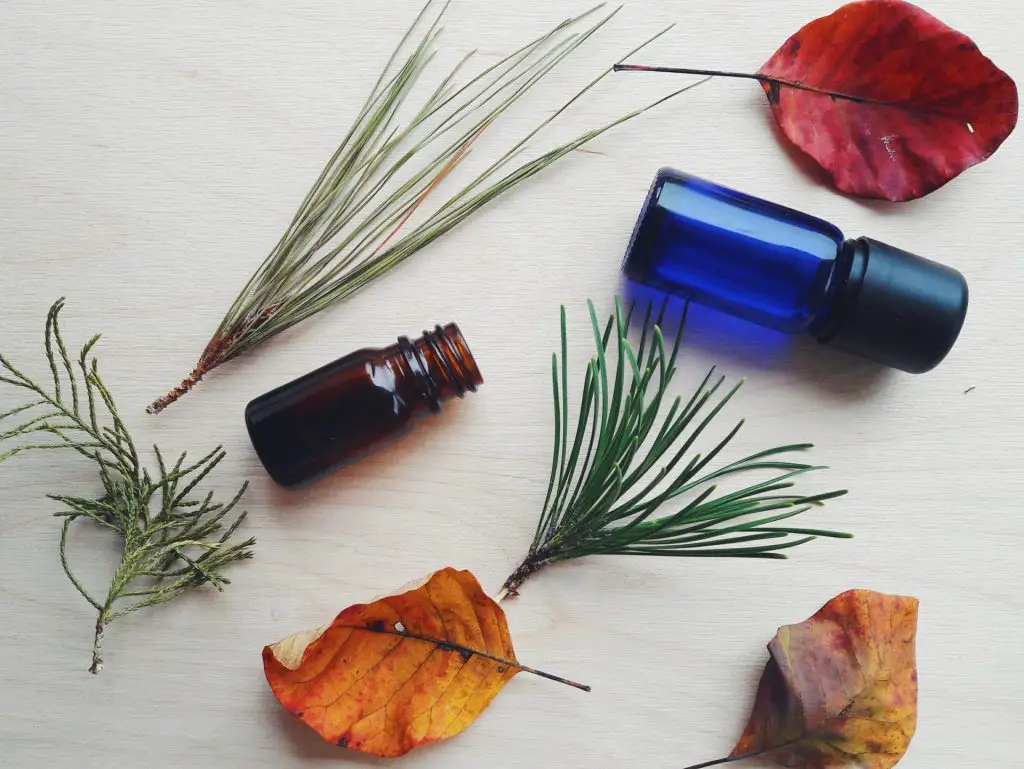 Essential oil winter and holiday blends
Now, have a look at the winter essential oil blend recipe ideas. While these are mostly designed to smell good, they actually do much more than that! Some of these blends provide you with immune support, other boost your energy levels, cleanse the air, and have uplifting effects!
Winter Joy
Ah, almost the classic winter essential oil blend recipe, this one will boost your mood and uplift your season's spirits! Whether you're ready for the winter or not, this blend will help you get right into it!
2 drops Cinnamon
2 drops Orange
1 drop Clove Bud
1 drop Eucalyptus
1 drop Pine
Open fireplace blend
What's better than a wood crackling in a fireplace on a cold winter night? Warmth, coziness and baked goodies are hidden away in this simple blend.
2 drops Cinnamon
2 drops Tangerine
1 drop Frankincense
Immune system boost
If you want your home to smell like holidays but still give everyone a healthy immune boost, this is the blend to try. It's fresh, it cleanses the air, and it brings a winter smell into your home.
1 drop Rosemary
1 drop Cinnamon
1 drop Clove
1 drop Eucalyptus
2 drops orange
Energetic Holiday blend
The winter season shouldn't be all about serious, solemn, and quiet. It's a fun part of the year that should make you dance with joy, build snowmen, and participate in as many snowball fights as you can. To get you started, try this blend that boosts your energy.
2 drops Lemon
2 drops wild orange
1 drop Black pepper
1 drop Ginger
Woodsy blend
I've already used a similar blend in this homemade beard oil, but you can substitute it if you prefer this one here. It gives a winter wood feel in your home (or in your beard oil). It's both earthly and barky.
2 drops Pine
2 drops Cedarwood
3 drops Grapefruit
1 drop Black pepper
Gingerbread house
This one is for all of you who love gingerbread cookies. I surely do, so this scent closely reminds me of those rich tasty freshly baked cookies. And your home will smell just like them!
2 drops Ginger
1 drops Nutmeg
1 drop Clove
1 drop Anise
2 drops Cinnamon
3 drops Orange
Happy holiday season
Last but not least, this is probably one of my favorite Christmas diffuser blends on the list. It's mulled wine with freshly baked cookies and pine decorations that give away that subtle yet intoxicating fragrance.
1 drop Cinnamon
1 drop Orange
1 drop Ginger
1 drop Pine
Essential oils for sore throat
I've already written an extensive post on the best essential oils for sore throat here. At the bottom of the post, you can find some DIY blends, application ideas, and even some recipes and recommendations.
My favorite essential oils for winter
A list of oils that make my favorite Christmas essential oil blends:
Allspice
Anise
Star anise
Peru balsam
Bay laurel
Benzoin
Black pepper
Cardamom
Cassia
Cedarwood
Cinnamon
Peppermint
Clove bud
Cypress
Fir needle
Frankincense
Ginger
Immortelle
Myrrh
Nutmeg
Sandalwood
Sweet orange
Tangerine
Pine
Spruce
Orange
Grapefruit
Vanilla
Vetiver
What is your favorite winter essential oil blend recipe?
Stay Wild!