Wild morning, pretties! Today we're making an easy project you can make in no time at home. It doesn't require much skill and it's all about our lips!
Ready for a homemade vegan lip balm recipe? No beeswax, nothing funky. Just clean, nourishing ingredients you can use for a number of other recipes as well!
Ready? Let's get to it!
As I said, this is a fairly easy recipe. It requires some measuring, some melting, and some pouring. The balm smells gently of bergamot essential oil, but you can easily change that to your liking. You can even omit the essential oils completely if you'd like!
In any case, this vegan DIY lip balm is
Nourishing, yes!
Basic.
Approved for beginners.
But before we get to the actual recipe, let's talk about a few other things first!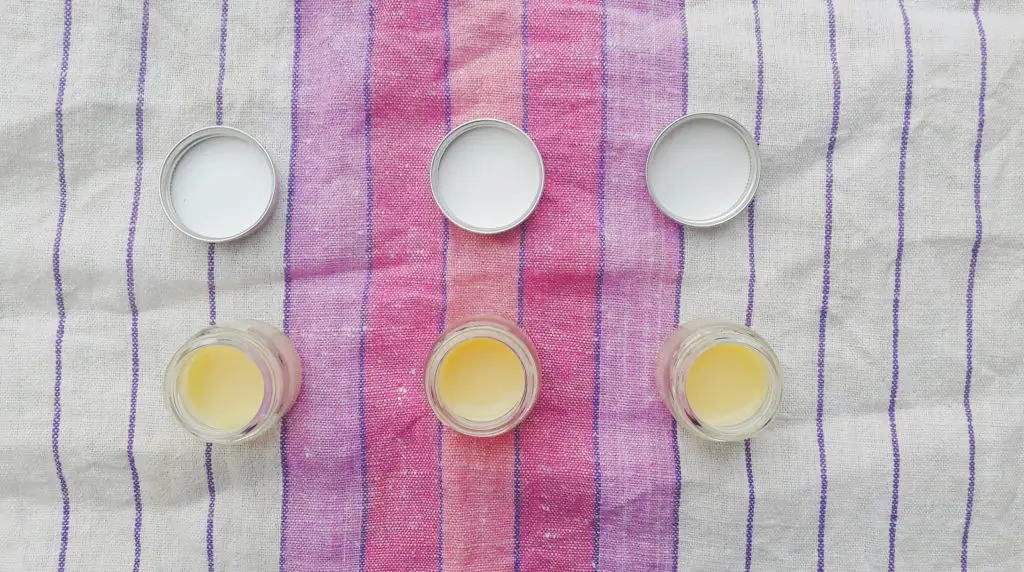 How to make your first vegan homemade lip balm?
The same as you would any other lip balm. There is one important ingredient that you need to adjust, but everything else is the same (read more below). Lip balms were probably one of the first things that got me into DIY skincare (as I've used a ton of money on always buying them; I'm a sucker for lip balms of all color, scent, and appearance!).
They're easy just as body butters and facial oils. With a bit of experimenting and testing, you can get a lovely balm that makes a great gift and it's very affordable as well!
How do you make lip balm without beeswax?
While you could probably make a lip balm without any wax altogether (even though I haven't tried that yet), there are a few vegan alternatives to beeswax that you can easily use in its place instead:
candelilla wax
carnauba wax
soy wax
There are a few other vegan alternatives, feel free to have a look at those in this detailed post on Vegan waxes from Formula Botanica.
Additionally to all these waxes, you can also choose floral waxes, which mostly add scent to your lip balms instead of ridiculously expensive essential oils (such as rose, jasmine). I think these are not to be used as the only wax in the recipe. They're also on the pricier side and can be used additionally to the original wax that you're already using.
Anyway, we could say that we're actually making lip balm recipe with candelilla wax.
Where can you buy candelilla wax?
Nowadays, getting a vegan alternative to many DIY skincare ingredients isn't all that complicated. I've bought candelilla wax online and locally. You can easily get it on Amazon as well by clicking here.
So then you can say we're actually making lip balm recipe with candelilla wax.
DIY vegan lip balm: the ingredients
If you're not a fan of coconut, have a look at this post on how to make lip balm without coconut. If you are a fan, read on! Have a look at the ingredients used in the recipe and their purpose!
Coconut oil
I've talked a lot about coconut oil a lot already, it's one of my regular ingredients to use at home at all times! Lately, coconut oil became a crucial ingredient in many of my DIY cosmetics recipes, so it was no wonder I used it in candelilla wax lip balm as well. Coconut oil is anti-inflammatory, antibacterial and antifungal. It soothes dry or irritated skin and it's a perfect natural remedy for cold and harsh winters.
Shea butter
Even since I got accustomed to shea butter, I started using it for everything (even for my hair!). The other day I burned my fingers on the stove and applied it to the burnt area, as I had nothing else at home. Guess what! The ache went away fairly quickly and my fingers were healed by the following morning. Shea is the best!
Anyway, besides this awesome experience, shea butter is also highly moisturizing. Not only it reduces inflammation, but it also makes your skin smooth and soft (as it did in one of my homemade body butter, whipped and delicious!). It offers relief to itchy skin, boosts its elasticity and it is definitely an excellent ingredient for any type of DIY cosmetics, especially lip care.
Candelilla wax
Candelilla wax is a plant-based wax, a vegan substitute for beeswax. It is derived from a shrub called Candelilla, which is native to northern Mexico and the southern USA. In my recipe it worked great, it helped to solidify the texture of my homemade lip balm and it is also easily absorbed into the skin. Here you can find a more detailed guide to how candelilla wax behaves when using it for DIY cosmetics recipes.
Avocado oil
With its monounsaturated fatty acids, avocado oil hydrates and softens the skin. It is a natural remedy for skin inflammation, supposedly aids with acne and calms itchy and dry skin. Chapped lips or dry scalp: avocado oil can aid in all that and more because it also boosts the elasticity of the skin and helps with dark circles. You can find other avocado benefits here.
Bergamot essential oil
Yes, it's a citrus month (or a decade, really). Bergamot essential oil is one of my favorites to add to any kind of DIY cosmetics, either to this homemade lip balm, a deodorant or body lotion. Why? Well, I love the smell, which is obviously the most important thing for me (smell first, benefits later). It is a natural relief for stress; it helps me relax after I'm done with all the daily chores and to-do lists.
Clary sage essential oil
Apart from the smell, clary sage is anti-inflammatory and it is beneficial for both dry and oily skin because it balances the natural oils in the skin.
DIY Vegan Lip Balm Recipe
When making your first (or second) vegan lip balm diy, you need about 15 minutes from the beginning to the end. Make sure to add essential oils and avocado oil at the very end. And try not to get any water into your boiler (as I stupidly did).
Ingredients
6 teaspoons coconut oil
2 teaspoons shea butter
1 teaspoon candelilla wax
1 teaspoon avocado oil
8 drops bergamot essential oil
2 drops clary sage essential oil
Process
Prepare a water bath: add 3cm/1" of water to a wide pan. Bring the water to simmer (low-medium heat).
Measure candelilla wax and coconut oil in a heat-resistant glass measuring cup
Place the cup into the water and let them both melt
When melted, remove the cup from heat and add small pieces of shea butter bit by bit. By whisking and mixing let shea melt completely (you can put the cup back into the bath for a few second while dissolving it in coconut oil)- but don't overheat it.
When shea has melted, add essential oils and avocado oil
Stir well
Pour into a lip balm container
Leave at room temperature overnight so the mixture cools and solidifies
Enjoy your vegan homemade lip balm!
What about you and candelilla wax lip balm; have you tried vegan alternatives before?
Stay Wild!