Let's talk about a messy yet detoxifying ingredient that we've all used at one point in our lives: activated charcoal!
It's been on a must-try-beauty-lists forever and I figured I could tell you a bit more about it! the beauty of it is that you can easily add it to homemade face masks and reap the benefits within minutes!
While I'm not the biggest fan of charcoal (my love lies with clay), it's still fun to add it to masks during a girl's night or when you need an extra kick of detox.
Let's have a look at how to use charcoal, how to make masks with it, and what is it all about!
What is activated charcoal?
Activated charcoal is a universal antidote, that has entered the skincare area and it seems like it's there to stay. It is a perfect thing to have around if you have mild food poisoning or skin issues that need to get under control.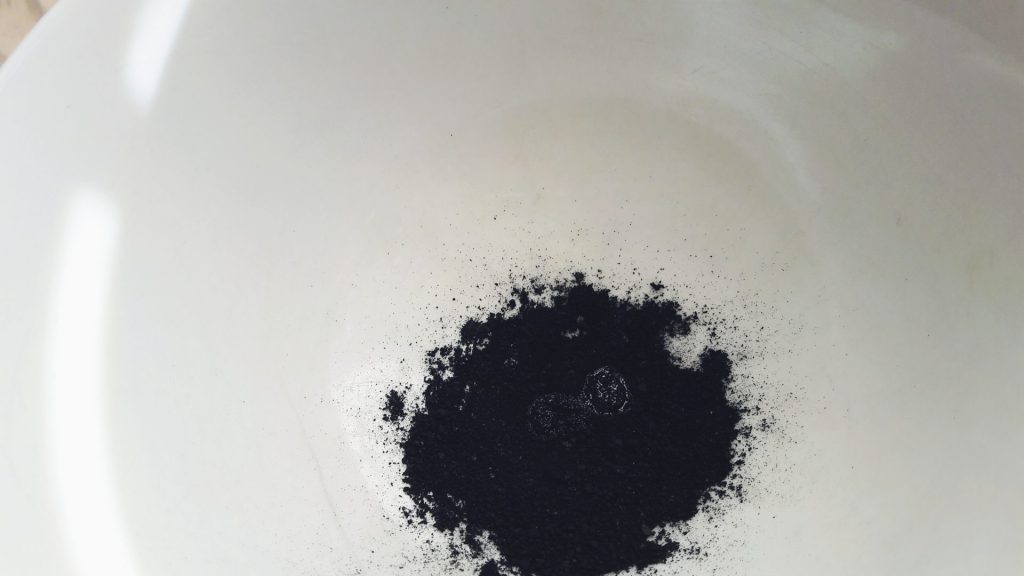 Activated charcoal is made from charcoal with a special technique of activation. It is widely used to filter water, decaf the coffee and used in medicine, known as medicinal charcoal. I keep it in my travel medicine cabinet always and no matter where I go. It absorbs and links harmful toxins. Activated charcoal has been used in traditional medicine for thousands of years and now it looks like it will become irreplaceable also in the cosmetic industry.
What is charcoal face mask?
That's a mask made with charcoal as one of its main ingredients. Some make peel off charcoal masks (with a glue), which may not be the best option, as they supposedly also damage and remove the top layer of the skin (feel free to correct me if I'm wrong!).
Below, you can find recipes for masks and a few other ways on how to detox with charcoal.
Charcoal mask benefits
Activated charcoal has an incredible capability to of absorbing impurities, toxins and microorganisms 200-times its own weight. It has strong detoxification, antibacterial and antifungal properties.
A black, finely ground powder without taste and smell, activated charcoal is a great addition to skincare products, toothpaste, facial masks, soaps, detox baths. What activated charcoal actually does is it links to itself the sebum, or the excess oils, heavy metals and toxins from the skin and the pores. This way it is actually a perfect detoxifier. A little messy, yes, but great.
Let's have a look at why is charcoal good for the face:
helps to remove acne, impurities, scars, and blemishes
gives the skin an even tone
promotes smooth, clear skin
helps to remove blackheads
exfoliates your skin naturally
helps to brighten the skin
DIY charcoal mask recipes
Okay, I have written and found a few of homemade charcoal masks (all are vegan charcoal mask recipes), so have a look at the list and see if there's something that you'd like to try.
DIY charcoal mask without clay
This charcoal and rosewater face mask is of my own making. The ingredients are three and it takes no time to make it and no time to apply it. Let's get to it:
Ingredients:
2 pills of charcoal (crushed)
2 drops of grapeseed oil
1 teaspoon of rosewater
Mix all the ingredients in a ceramic bowl. Apply on your face with either a brush or your hands, if you like to get messy. I used my fingers, applied the mask and left it on for about 15 minutes, until it was dry.
The fun part was later when I tried to wash the mask with lukewarm water. There were no stains on the sink, but there were some left on my face. I looked as if I was 5 again, playing in the dirt. I did wash my face again, this time with soap, but honestly, I wasn't really happy since the soap dried out my skin even more.
What do I think about the mask? Well, I need to get a better soap for my face if I want to continue using charcoal as a face mask. I was happy with the outlook of my skin (minus the black stains). Will I try it again? Probably, sometime in the future. In the meanwhile, I'll stick to other face masks (see the next recipe). Another thing that I disliked was the fact that my skin remained very dry for the rest of the day, even after applying a moisturizer and facial oil.
Another mask of my own making, this homemade detox face mask is a cleansing and detoxifying wonder that combines two extremely powerful elements: bentonite clay and activated charcoal. I use this mask from time to time when my skin asks for it.
It's a combo of gentle and strong, with a few essential oils that do the extra trick of detox as well as uplift.
Don't forget to apply a moisturizer after you wash the mask off!
Charcoal mask for acne
To eliminate acne, you can stick to this bentonite clay, which has helped eliminate acne on my skin and I love it. But since that's not the only mask you can use to target your skin's problem, have a look at the following recipe.
French green clay absorbs excess oils, cleanses the skin, and removes impurities. Charcoal detoxifies it, while aloe vera helps to add the kick of hydration to a mask that would otherwise result as quite drying. Make no mistake, it'll still be drying, but less. For best effects, hydrate your skin with this rosewater toner after the mask!
Ingredients:
2 TSP French green clay
1 TSP activated charcoal
1 TSP witch hazel
1 TSP aloe vera*
Process:
Combine all the ingredients in a bowl. Stir well, until you get a paste. Apply it on your face and leave it on for about 15 minutes. Rinse with lukewarm water and moisturize.
*you can use fresh aloe vera if you have a plant growing at your house. You can also use the gel or fresh juice. Since you won't store this mask for further use, it doesn't really matter; which of the three you use.
This homemade charcoal clay mask is an easy one, a vegan one and you probably already have all the ingredients at home since you only need three. With a step-by-step guide, the recipe is simple to follow and Jean gives you some extra tips on how to make her homemade charcoal clay mask the best way.
In case you refuse to put activated charcoal on your face, put it on your toothbrush instead! This diy whitening charcoal toothpaste is another interesting and useful recipe. Learn how to whiten your teeth by making them pitch-black and messy first. Lauren shows her teeth and promises positive results, all based on her own experience.
In case you are in need of a thorough and simple guide on how to detox our underarms with an activated charcoal mask. Have a look at what Tash has to say. She definitely convinced me. After all, how often do you think of your underarms and their health? Honestly, they hardly ever cross my mind. But with this recipe, I will definitely give it a go.
What's your favorite use of activated charcoal?
Stay Wild!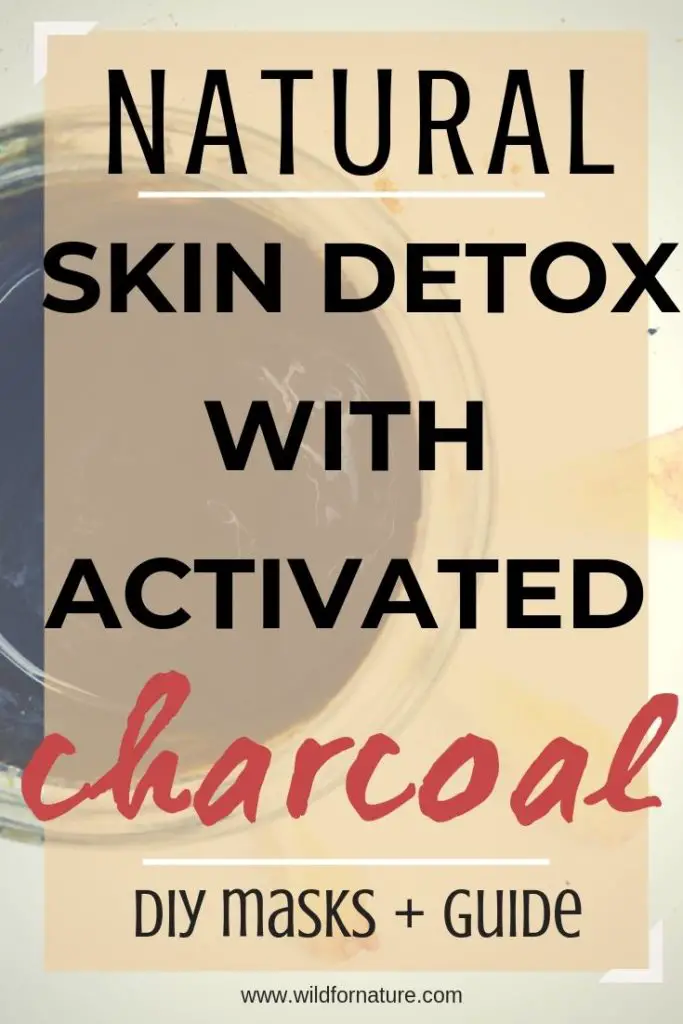 Help support Wild for Nature
Many of you have asked if there's a way to help support Wild for Nature. I've signed up for Buy Me Coffee. If you love what I do, learn from me, sell anything you made from my recipes, and want to see Wild for Nature grow even more, I'd be thrilled if you'd consider buying me a coffee! It works as a one-time or a monthly donation of $3. You can also get beautifully designed PDFs with a series of recipes and other resources I publish there, to help you learn and get creative at home! I can then use that money to further develop and grow Wild for Nature and you can help me continue with wild creations and resources!
Save
Save
Save